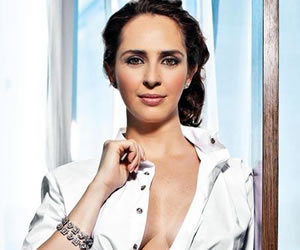 Irán Castillo Pinzón  is a Mexican actress and singer who began her career in the 1990s. The earlier roles were in telenovelas such as Agujetas de color de rosa, Confidente de Secundaria, and Preciosa. This was followed by her appearance in telenovelas such as Soñadoras, Amar Otra Vez and Clase 406, and also films like El Tigre de Santa Julia, La Segunda Noche and Cabeza de Buda. Along the way she also sprinkled her career with a song "Yo por el".
[contentblock id=2 img=adsense.png]
Castillo started her career as a little one. At the age of 7 she did commercials and 5 years down the lines she took acting classes with Martha Zabaleta and Pedro Damián.  All in all she has acted in 15 telenovelas (soap operas) in her career, including Agujetas de color de rosa made in 1994, Retrato de familia in 1996, Confidente de secundaria in 1996, Preciosa in 1998 and Soñadoras made in 1998; she was also a part of the series Qué chavas.
As for her singing talent, this was used by becoming part of musical group Mosquitas Muertas. Songs were featured in soap operas and the first album Tiempos Nuevos was released thereafter.
[contentblock id=2 img=adsense.png]
Tatuada en tus besos is the title of the second and last album that she released in 1999. In the same year, she had success with her performance in the musical comedy Gypsy opposite Silvia Pinal. Previously, she had acted in other plays such as Celos-Dije and Vaselina (Grease) taking the main role of Sandy. She also starred in Mexican films such as Que Vivan los Muertos and La Segunda Noche.
Castillo acted in a television soap opera titled Locura de Amor, playing Natalia, and managed to captivate the public, in spite of her short appearance on-screen. In 2001 Castillo did a special role in the telenovela Aventuras en el Tiempo. In 2002 Castillo appeared in the soap opera Clase 406 and the film El Tigre de Santa Julia. In 2003 Castillo starred in Amar otra vez, in which she played the protagonist. This melodrama was released in January 2004 in the United States]and in May of the same year in Mexico. During the previous year, Castillo formed part of Alborada, a soap opera by Carla Estrada, as Catalina Escobar, sister of the protagonist role played by Lucero.
[contentblock id=3 img=gcb.png]
The years 2006 onwards were good for her and she was actively involved in TV shows, Reality shows, and Movies. Castillo appeared in movies like Victorio, Viernes de Animas (released in 2011), and also on the TV series El Panteraand Mujeres Asesinas. In 2008, she appeared in Sabel, an animation movie, and Cabeza de Buda with Kuno Becker.
This actress continues to be loved by her fans and movie goers for her immense talent.