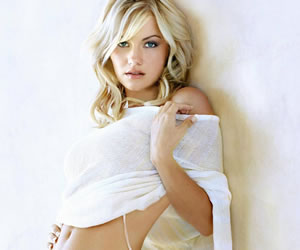 Elisha Ann Cuthbert is the famous one related to Canadian film and TV industry. As an actress she had her first film role in Airspeed which was followed by another role in Old School. Regarding her television roles the prominent ones are as Kim Bauer in the FOX action-thriller series 24 and currently as Alex Kerkovich in the ABC ensemble comedy series Happy Endings.
Born in Calgary, Alberta, she is the daughter of Patricia, a homemaker, and Kevin, an automotive design engineer. Most of her early years were spends in Montreal and little moved Toronto, Ontario. At the age of 9, Cuthbert became a child model and did some minor roles in television, becoming a part of the horror-themed series for children. Cuthbert co-hosted Popular Mechanics for Kids with Jay Baruchel, she got noticed by Hillary Clinton who invited her to the White House.
Soon after her move to Hollywood, she was cast as Kim Bauer, daughter of federal agent Jack Bauer, in the television series 24. She appeared in the show's first three seasons, but not in its fourth; she guest-starred in two episodes in the fifth season. She also reprised her role as Kim Bauer in 24: The Game and again guest-starred in five episodes of the seventh season and in two episodes of the eighth season.
Cuthbert dated Canadian NHL player Sean Avery for nearly two years, and enjoyed the relationship although it did not move into the third year and two of them broke apart before breaking up. Another dating stint with Canadian NHL player Dion Phaneuf, captain of the Toronto Maple Leafs, in May 2008, became the subject of much media attention Cuthbert was the subject of much media attention and controversy. Cuthbert is an avid hockey fan also.