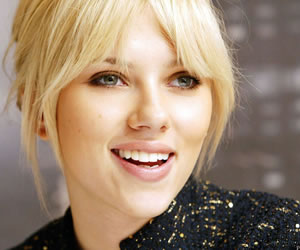 Scarlett Johansson a prominent American actress, an accomplished model and a singer, made her film debut way back in 1994. Her roles in The Horse Whisperer (1998) and Ghost World (2001) earned her a lot of praise and compliments. The adult roles began with her performances in Girl with a Pearl Earring and Sofia Coppola's Lost in Translation in 2003 and both films ended up earning Golden Globe Award nominations.
Her acting in the 2010 Broadway revival of Arthur Miller's A View From the Bridge gave her best reviews for acting, and she received a Tony Award for Best Performance by a Featured Actress in a Play. In May 2008, Johansson brought forth her first album, Anywhere I Lay My Head, which comprises mostly cover versions of Tom Waits songs. Her second album, Break Up, with Pete Yorn, was released in September 2009. The Hollywood Chamber of Commerce honored Scarlett Johansson with the 2,470th star on the Hollywood Walk of Fame on May 2, 2012 in front of Madame Tussauds in Hollywood.
Johansson is regarded as a popular female sex symbol in Hollywood and is quite often listed as one of the most beautiful woman in the world.
Johansson began dating Canadian actor Ryan Reynolds in 2007, and in May 2008, they were engaged. The couple married in the same year in a quiet ceremony near Tofino, British Columbia. They purchased a $2.8 million home together near Los Angeles, California and had some wonderful time together. But then this did not last and in 2010 Reynolds and Johansson announced their separation. Subsequently the divorce became final in middle of 2011.
As a celebrity Scarlett Johansson has been through a few troubles too. Her cell phone was hacked and some of her nude photographs were disseminated by the hacker. In year 2011 the FBI investigated this whole incident and Christopher Chaney of Jacksonville, Florida is been targeted for award of a presence sentence and a fine of US $ 66,000 as restitution.