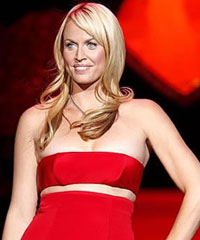 Amanda Beard was born on October 29th 1981 in Irvine, California. Both her parents are teachers and her two older sisters, Leah and Taryn, are also swimmers. To impress her sisters Amanda began jumping into the swimming pool while they were training.
When Amanda was still a child in middle school, her coaches could already tell that she was Olympic material. With her outstanding technique and speed, it was with little hesitation that her coaches signed her up for the United States National Team for the 1996 Olympic Games in Atlanta, at which time she was just fourteen years old.
Once at the Games, Amanda was instantly in the public eye when she took the silver medal in both the 100 meter and 200 meter breaststrokes, and the gold for her contribution in the breaststroke leg of the 400 meter medley relay.  Amanda became the second youngest gold medalist in U.S. Swimming history, only Pokey Watson was younger, when in 1964 she won an Olympic gold medal.
After graduating from high school in 1999 Amanda went on to enroll at the University of Arizona.
Amanda's wide smile has had her fans comparing her looks to those of Angelina Jolie's but she would rather be equated to Jolie through the actresses charity work. Also, her winning ways as a swimmer have been likened to the winning tennis skills of Anna Kournikova.
Amanda has made several television appearances on Jay Leno's Tonight Show, The Howard Stern Show and more recently she has appeared in Men's Fitness magazine, Vanity Fair, Sports Illustrated Swimsuit Edition and FHM Magazine.
Amanda's other interests include Grand Prix racing for which Amanda was placed eighth in the Toyota Grand Prix of Long Beach Celebrity car race in 2006.For nearly six years, Amanda dated South African swimmer Ryk Neethling but that relationship ended in the Spring of 2005. She has become well known among stockcar racing circles, after dating Nextel Cup Series driver Carl Edwards which ended in April of 2006.
In July 2007 Amanda graced the cover of Hugh Hefner's Playboy magazine making her one of many popular Playboy sports woman including Mia St John, Chyna, Candice Michelle, Katrina Witt, Torrie Wilson and Christie Hemme.
Amanda, however, has not lost sight of what landed her in the public eye to begin with. She continues to swim five hours a day when she's not studying business at the University of Arizona or speaking in defense of endangered species.