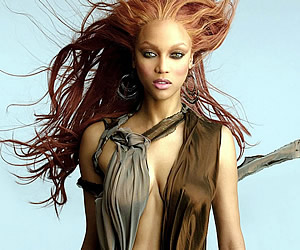 Tyra Banks is one of the pioneer names in the world of fashion and she is the first ever African American supermodel who took up the ramp with her strong charisma and breath-taking energy. Tyra Banks started her career from France and with a very short period of time, she became a popular face on the runways.
In fact, Tyra Banks is also the first ever African American model who became the most loved face for leading magazines like GQ, Sports etc. Her talented nature and natural modeling style made Tyra Banks bag many awards and she also won VH1 supermodel of the year award.
Something interesting about Tyra Banks is that she has always been a trend setter and she has been the first one to do many things which other supermodels have never done it. Apart from being the first ever African American supermodel to come on covers of leading magazines, Tyra Banks is also one of the first and original Victoria's secret angels. Her one of a kind looks, debonair and killing charisma makes her undoubtedly the most popular supermodels of all time.
Style is something which comes naturally to Tyra Banks. Whether it is a casual tee or a beautiful evening gown; Tyra Banks knows how to carry the look in her own unique ways. Moreover, her love for unique accessories and jewelry items have made her so popular amongst the masses that Tyra Banks now has  a line of accessories and jewelry under her name. People are just crazy about her and wish to look like her in every possible way. One of the biggest reasons for this is the uniqueness of Tyra Banks which adds a magic to her personality.
Tyra Banks has added a lot of vibrancy and life to her wardrobe through a splash of colors. This surely depicts her attitude towards like and all the energy and power that she has. Bright colors, bold prints, solid designs and a lot more make Tyra Banks a perfect style icon for those who love life and wish to represent it in best possible ways by pepping up their personality.
One of the popular quotes of Tyra Banks is; "Designers are very fickle. I never wanted to be a victim of that. You're in one minute, out the next".