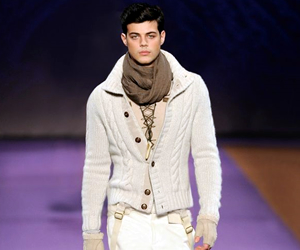 2012 has just reached and designers have already filled runways with their new designs and styles for men fashion 2012. This year men fashion requires some heavy investment in cloths to be in the list of fashionable men.
Men fashion 2012 is going to be a bold one. It is coming up with really marvelous colors and some deluxe and lavish fabrics. Men fashion 2012 is not difficult to forecast as already we have entered 2012 and things have started changing. Every designer is coming up with new and different men fashion 2012 ideas. They all have so much new to offer to everyone. I'm warning you, men fashion 2012 is going to be an expensive one. So start saving for men fashion because you don't want to be the one who will left behind this year.
Military Trends
Military Trend is taken forward from men fashion 2011. Many designers are seen to give diverse styles to boost the appearances of the military style jackets and coats. Salvatore and Versace are one of the designers who have taken this style to men fashion 2012. Above these two designers is Alexander McQueen whose designs are heavily inclined towards military style men fashion.
Preppy Fashion
Preppy fashion will be the most wanted men fashion trend in 2012. Talking about casual men fashion 2012, then D&G, Acne and Tommy Hilfiger have given casual men fashion more comfort and vibrant color.
Color Gray
Gray is the new black this year. Men fashion 2012 will be seen with number of shades of gray. Whether it's about formal wear or casual wear the color gray will be included in both of them. Mostly in suits of Dolce and Gabbana, Dior and Michael Kors gray has been appreciated.
Deluxe Fabrics
Now this is the part where your money will be spent. Deluxe Fabrics includes different shades of Velvet. This is the fabric which has been taken forward from men fashion 2011. Other luxurious fabrics in men fashion 2012 observed on runway are cashmere, colored leather and calfskin of Versace and Etro.
Sweaters
Sweaters are in fashion in men fashion 2012. Chunky knit sweaters will be the best sweaters worn in men fashion 2012. Some vibrant colors will be seen in such sweater. These sweaters are no longer knitted by grand ma, this responsibility has been taken by Missoni and Hermes this year.
Suits
This is the year for working class to go to their offices in men fashion. Some classy single and double breasted jackets are designed by Buckler, G-Star and Marni. Outward and bold pockets have increased the overall display of jackets this men fashion 2012. Ruched pants will be worn with these jackets.