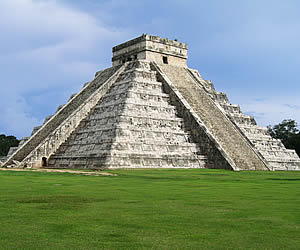 Chichen Itza is located in the eastern portion of Yucatán state. Rivers in the interior run underground. There are two natural sink holes present known as cenotes which could have been a major attraction for settlements in those times, these holes provided water all around the year. Chichen Itza was a large pre-Columbian city which was built by the Maya civilization.
The site provides multitude of architectural styles. It was one of the largest Maya cities and it can be one of the great mythical cities. It is one of the most visited archeological sites in Mexico and is a major tourist attraction.
Wonder of the world Chichen Itza has a history of 1000 years and many have left their marks on it. There stone monuments and artistic work is the major attraction for tourists from around the world. Several buildings have survived and come under the world heritage UNESCO. These places include the Warrior's temple, El Castillo and the circular observatory called El Caracol.
Major tourism is witnessed in Chichen Itza for a century now. A day trip to these sites can be made on a tour bus which is widely available. Chichen Itza's El Castillo pyramid was named one of the new Seven Wonders of the World. This happened with the help of a worldwide vote. It is estimated that due to this the tourism will double in Chichen Itza in 2012.
Due to the world heritage rules a lot of these sites have been closed for public access but they can still walk around them. This step is necessary in order to preserve these historical sites. The tourists are not allowed to climb the sites or go inside the chamber now. The most recent site which was closed was El Castillo.
Chichen Itza is an amazing place if you have a knack for historical places and world heritage sites.