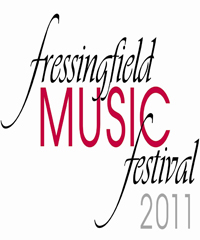 Fressingfeild is a village in high Suffolk, a beautiful country side. Fressingfeild's population is over 900 and this small village comprises of families who are living there for generations.
It is compact with roads, health centre, and churches all on walking distance. Fressingfeild is known for good food and lively people.
Where there are lively people festivals tend to take place. It is compact with roads, health centre, and churches all on walking distance.
Music Fressingfield Festival (2011)
Fressingfeild music festival originated in 2004 when the period instrument ensemble Badinage was invited in order to getaid for the St Paul and St Peter church. The concert was a success and the artist had wished to come again and play, later with this is turned in to a music festival.
After the success of six consecutive years this year the 7th Fressingfeild festival is taking place. It is going to present five nights of world class music and will again be considered as one of the best small music festivals of the country. Fressingfeild music festival is a great joy for people who have a good taste in music and also the local population. The locals get a chance to enjoy and serve food at their most famous restaurants The Swan Inn and The Fox and Goose.

Music Festival Fressingfield
This year's Fressingfeild music festival will comprise of 5 wonderful nights. The Chilingirian Quartet is the first one to play; the band formed 35 years ago and will be playing quartets by Mozart, Beethoven and Ravel. On the second night a young talent Timothy End is going to play who is a pianist. On the third night of the festival Vox Cantare is going to perform who is known for his stunning vocals and his fresh talent. For all the jazz lovers the fourth night of the festival is going to be for you with Elaine Delmar one of the finest jazz singers in the country is going to perform along with Brian Dee Trio. The Commonwealth Soloists Octet will bring a rich end to this beautiful festival with artists playing piano, saxophone, clarinet and double bass.
The tickets to this festival are available online as well as on the spot depending on the availability of the tickets.