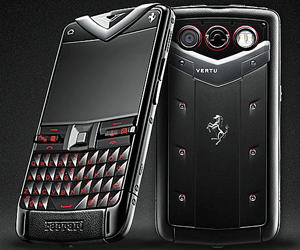 Two Iconic Brands. One Shared Passion.
The maker of the world's finest mobile phones and the legendary Italian car marque: Two iconic brands united by a shared passion for design, craftsmanship and performance.
In their pursuit of excellence Vertu and Ferrari have been creating some of the most thrilling mobile phones and a range of exclusive services giving handset owners access to the exciting world of Ferrari.
Ferrari Engine Coating
The unique coating used by Ferrari on car engine parts, known for its unbelievable resilience, has been applied to the parts of the handset which are highly exposed. Although this coating is as thin as 1/50 of a human hair it is ten times harder than steel.
Handcrafted Leather
The Constellation Quest Ferrari's luxurious handmade leather is crafted in the very same Italian workshop where the interior of Ferrari GT cars are produced.
Titanium Battery Cover
Titanium battery cover features the iconic Cavallino Rampante in polished stainless steel.
Sapphire Crystal Keymat
The "sea of Sapphire" that makes up the face of the Constellation Quest can take up to almost two weeks to create. On the keypad, each sapphire key is ground and cut to shape in a process that can take up to 25 hours.
Rev Counter Inspired Clock
Inspired by the iconic rev-counter on Ferrari's 458 Italia, Vertu has developed an exclusive analogue clock and calendar to ensure that you keep up to date, wherever you are in the world.
Unique Ringtones
Live recordings of the Ferrari 458 Italia on a test circuit provide a unique set of ring tones.
Leather Case
A bespoke leather slip case complements the Constellation Quest Ferrari. Hand made in Italy, the case incorporates key Ferrari design elements. – Vertu