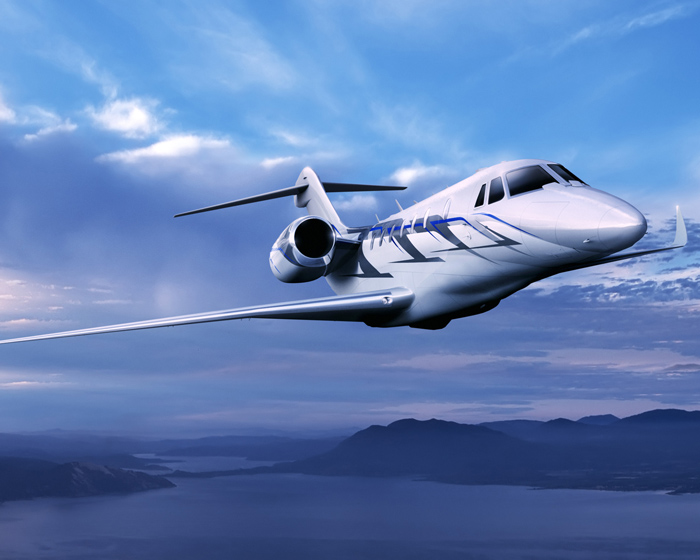 Cessna Aircraft Company, a Textron Inc. (NYSE:TXT) company, recently concluded all high-speed certification flights with the Federal Aviation Administration (FAA) on the new Citation X.
This marks the completion of all testing requirements needed to validate the aircraft's unmatched maximum operating speed of Mach 0.935 (617 mph, 536 ktas), solidifying the Citation X's position as the fastest civilian aircraft in the world.
Michael Thacker, Cessna senior vice president of Engineering, said: "The high-speed testing of the new Citation X was a success. All responses from the high-speed certification testing were well within the expected performance envelope.
While these are the results our engineers fully anticipated, this final round of testing went so smoothly the conditions were completed in fewer flights and hours than planned."
The high-speed testing regimen includes handling qualities, stability and control in addition to maneuverability conditions at high speeds. The Citation X high-speed validation was accomplished as a result of collaboration with FAA pilots and Cessna's Engineering Flight Test Team during the past weeks.
Over 1,300 hours have been flown in the Citation X test program in preparation for certification, expected in the early part of 2014.
Brad Thress, Cessna senior vice president of Business Jets, said: "Our Citation X customers will be glad to know they will own the fastest civilian aircraft in the world. There is no quicker way to get from point A to point B than inside a Citation X."
The Citation X has a range of 3,242 nm, a seating capacity for 9 people, and the cutting edge Garmin G5000 avionics package. Four intuitive, full-color touch-screen LCD control panels and three 14-inch high-resolution displays face the pilots upon entering the updated, ergonomic cockpit.
Maximum altitude is 51,000 feet, giving the new Citation X the ability to fly above weather patterns and commercial traffic. Two FADEC-controlled Rolls-Royce AE3007C2 turbo fan engines provide passengers with the fastest way to travel non-stop from New York to London, Dubai to Singapore, or Panama City to Sao Paulo.
Cessna is the world's leading general aviation company. Since its inception in 1927, Cessna has designed, produced and delivered nearly 200,000 airplanes around the globe. This includes 6,500 Citation business jets, making it the largest fleet of business jets in the world.
Today, Cessna has two principal lines of business: aircraft sales and aftermarket services. Aircraft sales include Citation business jets, Caravan single-engine utility turboprops, single-engine piston aircraft and lift solutions by CitationAir. Aftermarket services include parts, maintenance, inspection and repair services. In 2012, Cessna delivered 571 aircraft, including 181 Citation business jets, and reported revenues of $3.111 billion.textron