Abu Dhabi, one of the richest cities in the world is well known for its ostentatious displays of wealth and also as a preferred destination for super rich Arab Sheiks.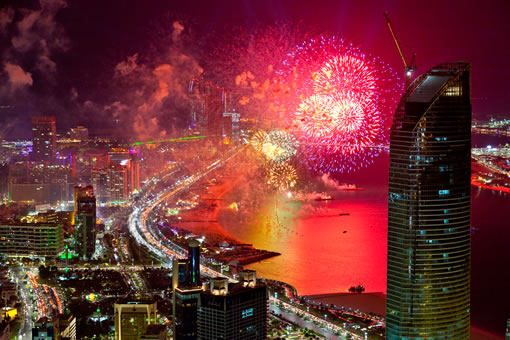 On 2nd December 2009 the Middle Eastern city literally lit up the sky while celebrating the United Arab Emirates' 37th National Day.  The Gulf city celebrated the special day in great pomp and style and managed to leave a lasting impression on the people who were lucky enough to witness the grand event. The city authorities aimed to set a new world record by conducting the biggest and the most expensive fireworks display held till date. Reportedly the estimated cost for the monster fireworks extravaganza that went on for 55 minutes was speculated to be a whopping $20 million.
The magnificent and massive fireworks display comprising of 17,000 shots illuminated the skies of Abu Dhabi and Madinat Zayed. The resplendent show was choreographed by the renowned international event management firm, "WRG Creative Communications and Groupe F".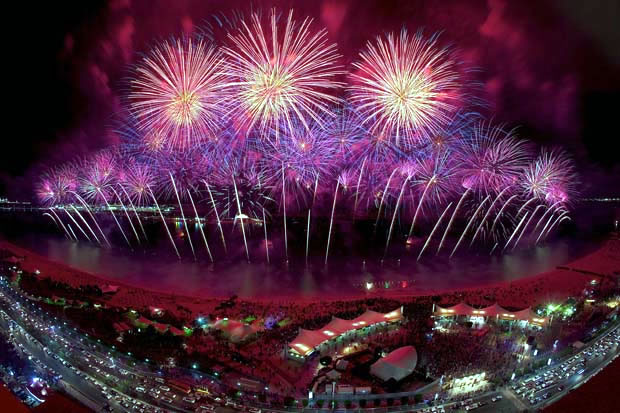 A salvo of exotic fireworks of the likes of comets, trails, volcanoes and shells marked the first seven minutes of the spectacular event. Thereafter it was followed by a synchronized 10 minute show where the flames from giant fire crackers extended up to a maximum length of 600 meters. Apparently a statement from the Emirate Palace was released which stated that the magnificent visual display would showcase the rich culture of Abu Dhabi in all its glory vision to a global audience. According to news reports the Emirates Palace's intention of setting the world record for the costliest fireworks show ever conducted stemmed from the fact that unlike the neighboring metropolis of Dubai, Abu Dhabi never held any global record till that point of time. The mark set by the city on that spectacular night of December 2009 has not yet been surpassed. – Bornrich