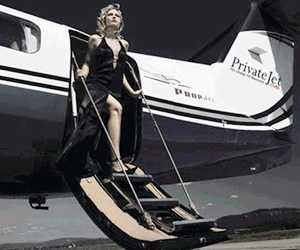 In one of the biggest takeover deals of the virtual world, the domain name http://PrivateJet.com has just been acquired by Nations Luxury Transportation, LLC from Don't Look Media Group for a cool $30.18 million! The website which is expected to be launched in April 2012 will be a platform for Nations Luxury Transportation to offer worldwide chartering, aircraft acquisitions, and private jets for sale. And if we go by the firm's patented Jet-Connect Charter Bid system, then the expensive website is expected to boast of 250,000 plus unique visitors monthly in more than 52 countries, by the end of 2012.
With this website the company aims to become the front runner as well as the main source for all requirements related to private jet travel for both industry professionals as well as consumers. PrivateJet.com will provide 24/7 detailed coverage of everything related to the ultra high net worth lifestyle and provide the high-flying elite clientele with regular editorials, breaking news and Private Jet Travel Specials. The firm also has various other offerings in the pipeline like creating a private jet magazine with a global events calendar.
Given the high-flying plans of the firm, this investment in the domain name seems like a profitable bet. With the large sum paid to acquire this domain name, other domain names which were front-runners for the most expensive domain name title have no choice but to bow out of this race.