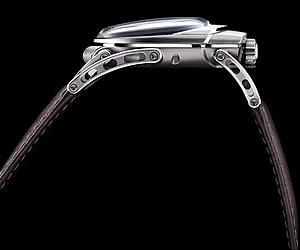 When two renowned brands join hands to work on something, it is not unnatural to expect an outstanding result that can stand the test of time. Hence when Max Büsser of MB&F and Felix Baumgartner of Urwerk worked together on a new concept brand, C3H5N3O9 evolved. The new brand debuts with Experiment ZR012 which uses Wankel engine inspired hour and minute indications in an asymmetrical zirconium case with articulated and compound lugs.
This new kind of time-telling device is also the first of its kinds to use an epicyloid in a wristwatch. Along with 60 components, the watch also contains 42 jewels and is water resistance up to 30 meters. To understand more about these complicated horology terms, you go to C3H5N3O9's homepage. The brain behind the movement is Urwerk while Max Büsser has worked brilliantly on the case of C3H5N3O9 Experiment ZR012.
Made of Zirconium, only twelve C3H5N3O9 Experiment ZR012 will be offered in 2012 for 110,000CHF ($115,500). However keen buyers who seek bling can also wait till next year, as another twelve ZR012s in red gold will be available then. Reserve this limited edition watch with a down-payment of about 33,000 CHF ($35,000).