More often than not, brands define their product DNA, ensuring every item that rolls off the production line is unmistakably theirs – but some brands aren't so easy to pigeon-hole. Some brands like so much to be different and that difference becomes their modus vivendi.
[contentblock id=1 img=adsense.png]
The new ArtyA & Kerbedanz Led Zeppelin watch is a typically unpredictable offering from the originative mind of Yvan Arpa, owner and creative director of ArtyA.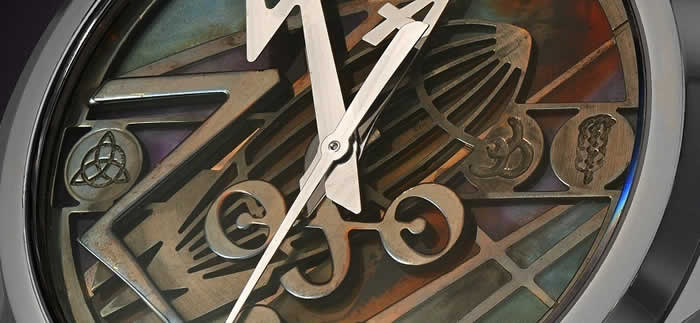 The ArtyA & Kerbedanz Led Zeppelin is, like his previous models, quite unlike anything else. His range is bound by a common uncommonness. ArtyA is nowhere near as erratic as a brand like Azimuth, for example, but I wouldn't fancy betting on what will come next – I will wager, though, that it'll be worth a look! Founded in 2010, ArtyA is a Swiss brand that specialises in aesthetic brilliance.
Boasting its own manufacture, Arpa is proud of his company's ability to respond quickly and organically to in-house decisions.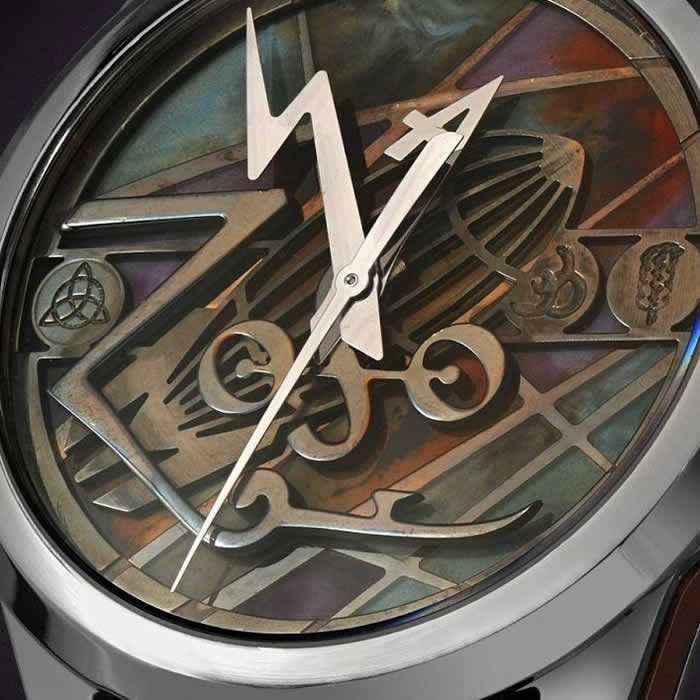 With a team of just ten people, ArtyA is a small but clearly dynamic company, producing watches with unique, handmade dials. Almost every watch face is created by artist Dominique Arpa-Cirpka. In the past, ArtyA have released watches utilising real bullets, butterflies, spiders, and dinosaur dung – and much, much more.
[contentblock id=2 img=adsense.png]
The name may not be instantly recognisable, but the timepieces produced under it most certainly are. One very important thing to remember about ArtyA is the limited nature of all their wares.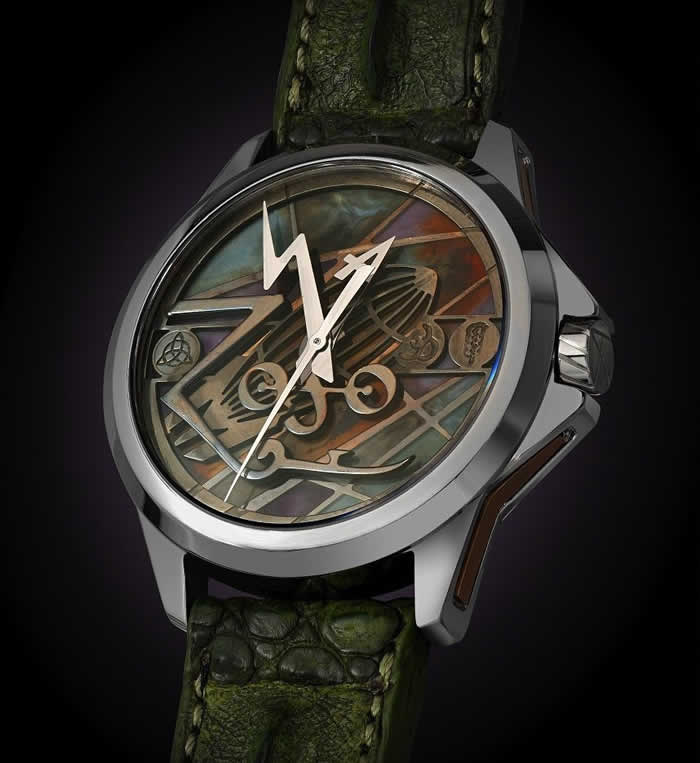 The ranges tend to remain, but the watches within them are updated frequently and only produced in very small batch sizes, and within those batches the painstaking construction of each individual dial results in a collection of singular models united by a theme. 
The ArtyA & Kerbedanz Led Zeppelin collaboration features an enamelled dial that pays tribute to Led Zeppelin.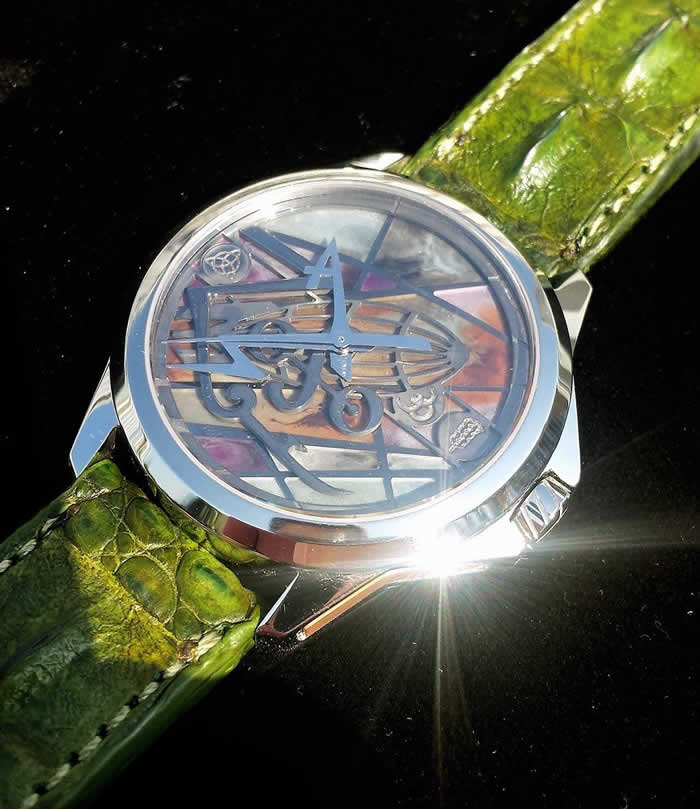 It's a really cool looking thing, with a background that looks more like natural shell than enamel, and a foreground image of an actual Zeppelin realised in a bronze/gold-like material, which ArtyA refer to as Arty Or.
[contentblock id=3 img=gcb.png]
The applied motifs and hands of this watch really leap out of the dial, but in a way that is more interesting than rudely arresting as some of the brand's more garish models could be accused of being. The colours of the dial and hands look great against the clean lines of the polished 316L stainless steel 42mm case.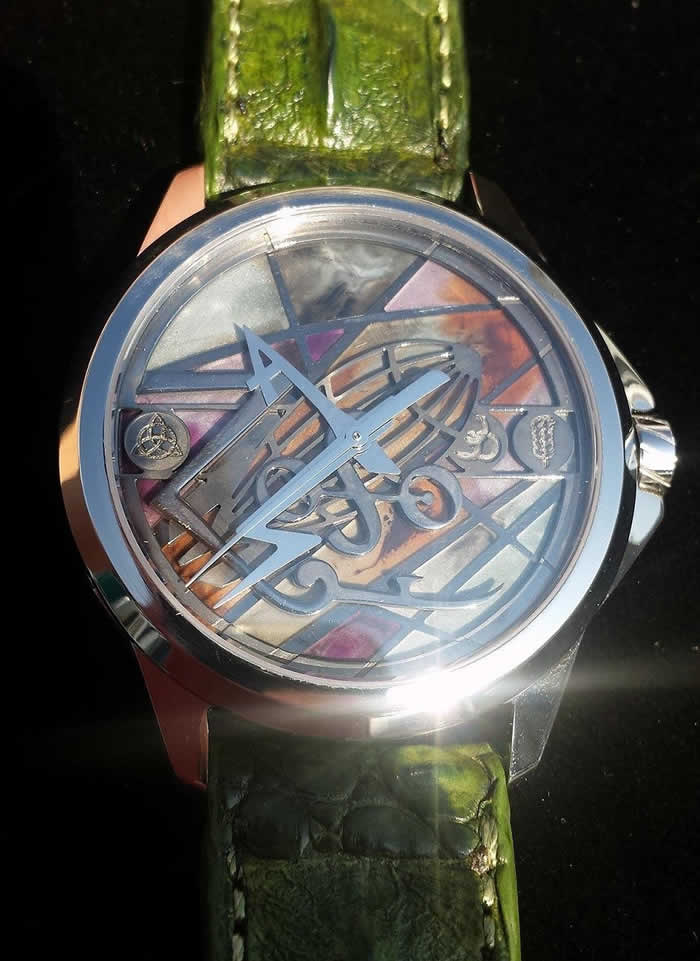 The dial and hands are incredibly steampunk in style, but it's really nice to see this kind of edgy design code worked into a smart dress watch rather than some rust-coated wrist relic like a Romain Jerome (which are awesome, but not as wearable as the ArtyA & Kerbedanz Led Zeppelin collaboration watch). The swamp green horn-back alligator strap is really cool and adds to the slightly grimy appeal of this intriguing piece.