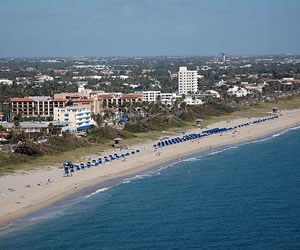 Delray Beach's location in South Palm Beach County is in the middle of Florida's Southeast Economic Region, within 30 minutes of two international airports and two seaports.
Delray beach Florida is a name that brings an image of sparkling white sandy beach when thought of. Besides building sandcastles on bright, white and clean sand, Delray beach Florida has many other attractions such as fishing, kite surfing, boating, kayaking. Not only these, but the splendid hotels with every possible facility is what places it among the luxury beaches of the world.
Another reason which makes this Florida beach an ideal vacation spot is its maintained cleanliness. Delray beach Florida is an officially certified clean, healthy and environmentally well managed beach by the Clean Beaches Council. In 2002, Delray Beach Florida received recognition from the "American Coastal Coalition" for its accomplishment in restoring their pristine white sandy beaches. Florida beach is among the best luxury beaches when talk of family vacation spots. It is ranked as one of the two top Florida beaches.
Being the best family vacation spot, Delray beach Florida has got picnic areas, showers, lifeguards and sand suitable for building great sandcastles. Besides having a playground area, Florida beach is an ideal site for the annual festivals which have always been a source of attraction for the tourists.
Tourist Attractions:
Being in Delray beach Florida, you would find the best ever restaurants, nightclubs and art galleries. In 2009, expansion of the Downtown Delray Beach Arts District was established that features galleries, and cultural organizations in South Florida. These have existed in Delray for more than 20 years along the Atlantic Avenue and the connecting side streets.
The Delray Affair – a three days long art and street fair – celebrated annually in the Delray Arts District is what tourists dream of. The Delray beach Florida Garlic Festival is another three days long festival of music, food and art. It is held annually on the grounds of Old School Square.
Must Visit Spots In Delray Beach Florida:
Morikami Museum And Japanese Gardens:
One of the finest museums in South Florida, Morikami Museum is Japanese art and cultural history museum.
The Morikami Gardens allow the visitor to stroll through recreations of Japanese gardens from different periods in the nation's long history. Tourists usually appreciate traditional Japanese art genres such as scroll paintings and woodblock prints.
Wakodahatchee Wetlands:
This is an amazing place in Delray beach Florida where you walk through the wilds. It's a short boardwalk trek. You are sure to see lots of wildlife such as gators, anhingas, cormorants, roseate spoonbills, herons, ibises, storks, turtles, fish, rabbits, and otters.An ideal spot for photography because the critters are not much afraid of the people. Tourists having Wordsworthian taste must visit Wakodahatchee Wetlands.
Atlantic Avenue:
This is the main street of Delray beach Florida. This busy thoroughfare is full of antique shops, galleries, clothing boutiques, jewelry and gift shops. The finest ever restaurants are a speciality of this place. This is a great place to walk around for the day. Quaint little shops for picking up souvenirs and small cafes with sidewalk dining.