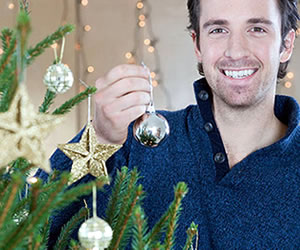 Christmas is a time of rejoicing and celebrating the great festival. Everyone desires to get hold of the best tree to decorate it as elegantly as possible. This only requires a bit of effort and creativity.
The first thing which everyone needs to do while buying a Christmas tree is to see if the tree is shaped properly and does not require any trimming before the decorations to take place. Thus any decorating ideas need to be held down before the shape of the tree is not seen as proper. Only after the trimming has been done can the Christmas tree be decorated elegantly.
The first decorating idea for Christmas tree is the picking up of a real tree. Fake trees often cannot give the final effect properly. An alternative can be feather trees or the tinsel trees as they have a conventional beauty and charm in them.
Before decorating the Christmas tree, see if the branches are spaced out evenly and symmetrically with a tapered shape to begin with. Get hold of that tree which has got the tips of its branches completely intact. A sheared tree can be a bit economical but it looks less natural and might even loose needles while decorating the Christmas tree.  You want to keep your tree fresh and long-living. This is why choose that tree which has the deepest water reservoir that we can find.
The next step is towards the lighting decoration. Get hold of white or off-lights to begin with. Do not play music along with it. The size of the lights should be relatively small for decorating purposes. Their main function is to keep the ornaments stand out which we'll use for decorating purpose. Hang all the lights on the Christmas tree from top to bottom and that too evenly.
The next step in decorating the Christmas tree is the selection of elegant ornaments. Too much glitter can ruin the whole effect of elegance. Use each strand separately with a usage of icicles to let them dangle conveniently. One good idea is to use plain balls which are a traditional idea. Children prefer the silver and golden balls to be used for decorating the Christmas tree. Go for themes if your Christmas will be celebrated with families who have young children. Themes like, birds, toys and cartoon ornaments can be suited best for decorating the Christmas tree. Make sure that you use candy sticks, pinecones and fruits to give it a natural look too.
Remember while decorating the Christmas tree with ornaments, use the big-size ones and then use the small sized ornaments to fill in the space. Make the trunk and the bottom heavy with ornaments as that part levels the children's' heights and the gifts can be kept near the trunk. Make a personalized Christmas tree this winter for your family and friends.