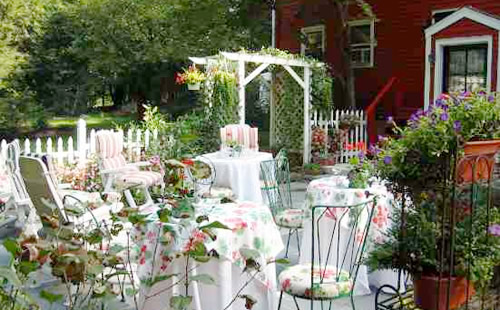 Creating an atmosphere which is romantic, enchanting and alluring is only possible when you plan your party venue to be your garden. Read the Garden party ideas below and you would be convinced!
Garden decor is something that sets the mood of your party. Garden party decorations if made aesthetically and skillfully can add a lot to the party spirits as well as make the arrangements cost efficient. Following garden party ideas focus all sorts of happy occasions with different seasonal requirements.
Planning:
While planning for a garden party, Check the weather forecast before seeking for different garden party ideas. Weather conditions and time selection contribute a lot in enhancing the environment created through garden decor. Night time parties allow more scope for applying various garden party decorations and the environment seems more romantic and alluring.
Placing Invitations:
Once you have decided the date and time best suited to your party, it comes to placing invitations. When the theme is garden party idea the invitation mode should be accordingly selected. You can create your own, handmade invitation cards just to tell the visitors, how important they are for you. Or there can be some other way to invite friends to this party but make sure that the invitation helps the guests to anticipate the scale of event so it should be appropriate. Hence it should coordinate your planned garden decor theme.
Garden Party Decorations:
Considering that your party is planned to be held on a clear starry night, We recommend the following garden decor options that you can integrate with your garden party idea.
Keep the lighting appropriate. It should never be too bold and bright. Dim, yellow lights help creating a romantic environment. For lightening up your party you can use fairy lights wound around the trees of your garden. Candelabras if scattered all around, can add a lot to your garden decor. In the same way, floating candles placed in glasses and placed in the middle of round tables enhance the garden decor and party environment. Tiki torches in flowerbed can encircle your garden as they are the best garden party decorations item.
Table arrangements are very important when it comes to garden party ideas. Inter table distance, ample sitting space are of course the prior important things. Later comes the table decorations as they are the main punch of the garden party idea. Table decoration should coordinate your garden decor. If candles are the major theme, there should be candles on every table as well. Moreover, fruit baskets or flower arrangements can also be made to complement the garden party decorations.
Food is the most important to plan for in the garden party idea. Fresh and colorful party food, with lots and lots of fresh and raw vegetables and fruit can complement the garden party decorations. Food serving style should also be given importance while planning the garden decor. Fresh flowers or limes in a bowl can be places along with the napkins on table cloth. Color of table cloth should complement the dominant colors of the garden decor so that the environment gets a theme.
Drinks should be very well garnished and served. Choice of drinks and beverages is also an important issue which shouldn't be overlooked while planning the garden party decorations.
Music is a must and it can change the whole mood of your party. Festive and melodious music is sure to top up the garden party romance.
Hope your garden party idea is a success this time!!!