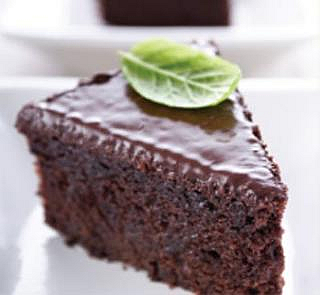 There's something to be said for a cake that you can whip up at 9 o'clock on a Friday night, after a serious doozy of a week.
Ingredients:
1 3/4 cups Healtheries Simple baking mix
1/4 cup Abundant Earth organic cocoa
1 1/4 cups sugar
1 1/2 teaspoons gluten-free baking soda
1/2  teaspoon gluten-free baking powder
3/4 cup oil
2 eggs
1 cup water
1 1/2 tablespoons Healtheries apple cider vinegar
Method:
Step 1 Preheat your oven to 160?C. Line a 23cm cake tin (6cm deep) with baking paper and grease well.
Step 2 Mix all the wet ingredients in a bowl and whisk to combine them.
Step 3 Mix all the dry ingredients in a second bowl and stir to combine them.
Step 4 Combine all the wet and dry ingredients together and beat well for several minutes with an electric mixer until you get a smooth batter.
Step 5 Pour the batter into the prepared tin and bake at 160?C for about 1 ½ hours.
Step 6 You'll know the the cake is cooked when a skewer inserted into the centre of the cake comes out clean. Remove the cake from the oven and leave to cool in the tin for 10-15 minutes.
Step 7 Remove the cake from the cake tin and peel away the baking paper. Once the cake is cooled feel free to ice with your favourite chocolate icing. – Healthyfood