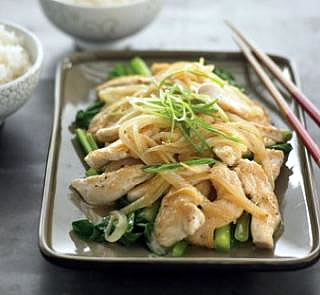 Why order take out when you can make your own Classic American lemon chicken recipe at home?
Ingredients
2 tablespoons cornflour, plus 1 teaspoon extra for sauce*
black pepper, to season
600g skinless chicken breast fillets, thinly sliced
Sauce
1 lemon, 1/4 cup juice
1/3 cup salt-reduced chicken stock*
1 tablespoon white wine vinegar
2 tablespoons liquid honey
cooking oil spray
1 large onion, sliced
3cm piece fresh ginger, peeled, cut in matchsticks
1 bunch choy sum, steamed
4 cups cooked rice
2 spring onions, sliced
*NOTE: Ingredients with an asterisk (*) indicate that although this ingredient is usually gluten-free, it's wise to check the label to be sure as product ingredients can vary and formulations can change.
Instructions
Step 1 Season cornflour with pepper and spread on a plate. Lightly coat chicken in cornflour. To make sauce, place ingredients and extra cornflour in a jug. Stir until well combined and smooth. Set aside.
Step 2 Heat a wok over a high heat. Spray with oil. Stir-fry chicken in batches for 2-3 minutes or until golden. Remove from wok. Set aside.
Step 4 Return wok to a high heat. Spray with a little more oil. Add onion and ginger. Stir-fry for 2 minutes or until golden. Add sauce and simmer for 2-3 minutes or until slightly thickened. Return chicken to wok. Simmer for 1-2 minutes or until chicken is heated through.
Step 5 Serve with choy sum and rice on the side. Garnish with spring onions.