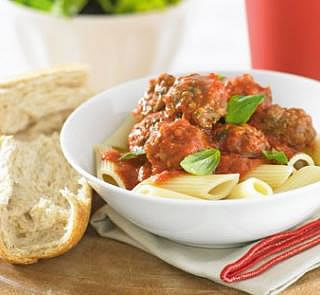 Polpettine al sugo or meatballs in tomato sauce is a classic Italian main dish. There are various ways to prepare it, like everything else anyway.
Ingredients:
400g lean beef mince
1 small red onion, finely chopped
1/3 cup fresh breadcrumbs
2/3 cup roughly chopped basil leaves
2 tablespoons finely grated parmesan
700g bottle Italian tomato sauce (we used Leggo's Sugo di Pomodoro)
400g dried penne pasta
8 cups green salad, to serve
Instructions:
Step 1 Combine mince, onion, breadcrumbs, half the basil and parmesan in a large bowl. Roll tablespoons of mixture into balls (there should be about 32 balls) and place onto a large plate. Cover and refrigerate mixture until required.
Step 2 Bring tomato sauce and 1 cup water to the boil in a large, deep saucepan. Add meatballs and cook, shaking pan occasionally, for 15-20 minutes or until meatballs are cooked through.
Step 3 Meanwhile, cook pasta in a large saucepan of boiling water following packet directions. Spoon pasta onto 4 serving plates. Top with meatballs and sauce. Sprinkle with remaining basil. Serve with salad.