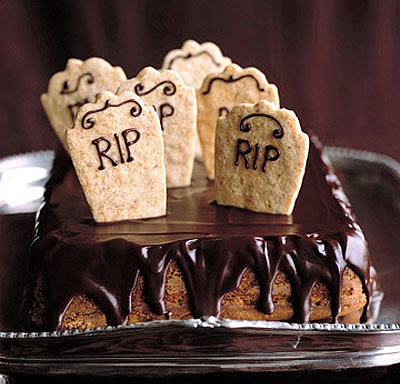 Graveyard cake — a pumpkin spice cake with bleeding chocolate glaze — is the pumpkin pie of a spectral Halloween menu. Espresso shortbread headstones mark each slice. This spiced pumpkin cake can be made one day ahead and refrigerated, without the glaze. Several hours before serving, make the glaze and finish the cake.
Ingredients:
8 ounce(s) (2 sticks) unsalted butter, softened, plus more for pan
4 cup(s) cake flour, plus more for dusting
4 teaspoon(s) baking powder
1 teaspoon(s) baking soda
1/2 teaspoon(s) salt
2 teaspoon(s) ground cinnamon
1 teaspoon(s) freshly grated nutmeg
1/2 teaspoon(s) ground cloves
2 1/2 cup(s) packed light-brown sugar
4 large eggs
1 cup(s) buttermilk
1 1/2 cup(s) canned solid-pack pumpkin
Bleeding Chocolate Glaze
Espresso Shortbread Headstones
1 tablespoon(s) ground ginger
Method:
Preheat oven to 350 degrees F. Generously butter a 9-by-13-inch cake pan. Line with parchment paper; butter lining. Dust with flour; tap out excess. Set pan aside.
Whisk together flour, baking powder, baking soda, salt, cinnamon, ginger, nutmeg, and cloves in a large bowl; set aside. Put butter and sugar in the bowl of an electric mixer fitted with the paddle attachment; beat on medium-high speed until pale and fluffy, 2 to 3 minutes. Add eggs, one at a time, beating well after each addition. Reduce speed to low; alternate between adding flour mixture and buttermilk, beginning and ending with f lour. Add pumpkin, and beat until completely combined.
Pour batter into the prepared pan. Bake until golden and a cake tester inserted into center comes out clean, about 40 minutes. Let cool in pan on a wire rack 15 minutes. Unmold; peel off parchment. Let cool completely on rack, top side up.
Set cake and rack on a baking sheet lined with parchment paper. Pour warm chocolate glaze over cake. Using a small offset spatula, gently smooth glaze over top of cake, letting it drip down sides. Let stand at room temperature, or refrigerate until set. Arrange 6 headstones on top; serve with the remaining.