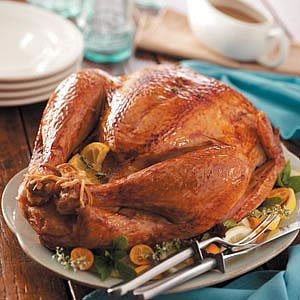 This method produces all the good looks and moist flavor you dream of in a Thanksgiving turkey. Make sure you show this beauty off at the table before you carve it. Garnish your serving platter with fresh herb sprigs and citrus wedges.
Ingredients:
1/2 cup butter, melted
3 tablespoons lemon juice
2 teaspoons grated lemon peel
1 teaspoon minced fresh thyme or 1/4 teaspoon dried thyme
1 turkey (14 to 16 pounds)
2 teaspoons salt
2 teaspoons pepper
1 medium lemon, halved
1 medium onion, quartered
14 garlic cloves, peeled
24 fresh thyme sprigs
1 tablespoon all-purpose flour
1 turkey-size oven roasting bag
Directions:
1. In a small bowl, combine the butter, lemon juice, lemon peel and minced thyme. Pat turkey dry. Sprinkle salt and pepper over skin of turkey and inside cavity; brush with butter mixture. Place the lemon, onion, garlic and thyme sprigs inside cavity. Skewer turkey openings; tie drumsticks together.
2. Place flour in oven bag and shake to coat. Place the bag in a roasting pan; add turkey, breast side up. Cut six 1/2-in. slits in top of bag; close bag with tie provided.
3. Bake at 350° for 2-1/4 to 2-3/4 hours or until a meat thermometer reads 180°. Remove turkey to a serving platter and keep warm. Let stand for 15 minutes before carving. If desired, thicken pan drippings for gravy. Yield: 14-16 servings.
Source: Tasteofhome