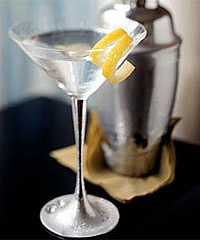 Dry Martini: "Preferably made with Tanqueray No. 10 gin, this is an all-time favorite of mine that showcases the complex flavors of the botanicals in the gin for a unique martini. It is best finished with a citrus twist to enhance the aroma."
Ingredients:
90 milliliters Tanqueray No. Ten Gin;
15 milliliters dry vermouth;
Three drops of orange bitters;
A lemon peel garnish
Method:
Stir and strain.
Serve in a Martini glass.