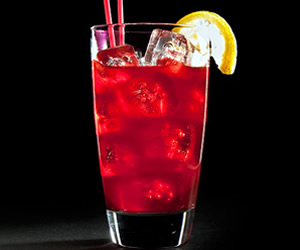 A Blast from the Past When was the last time you had a Sloe Gin Fizz? Or a Sloe Gin Anything? I'll bet many readers have never tasted sloe gin.
Ingredients:
1 ounce sloe gin (increase to 2 ounces if using the expensive stuff, like Bitter Truth or Plymouth Sloe Gin; see headnote)
1 ounce regular gin (omit if using an expensive sloe gin)
½ to 1 ounce fresh lemon juice (I prefer 1 ounce, but I like lemon)
1 teaspoon Simple Syrup (you may want to increase this amount if using a more expensive sloe gin; you can also substitute granulated sugar — see Notes)
club soda or seltzer water to top up (1 – 2 ounces)
lemon wheel or wedge as garnish (optional and not traditional, but colorful)
Method:
Add the sloe gin, regular gin (if using), lemon juice, and Simple Syrup to a cocktail shaker half-filled with ice (you can also mix this drink in the glass; see Notes).
Shake until cold (20 seconds), then strain into a tall glass filled to within an inch of the lip with ice cubes or cracked ice.
Top off with club soda or seltzer, and garnish with a lemon wheel or wedge, and serve.  I serve this drink with straws, but many people omit straws when serving fizzes.