The first thing visitors this spring to the Gagosian Gallery, which is hosting one of the two Jeff Koons exhibitions currently on view in New York, have seen upon passing the front desk is the artist's eight-plus-foot high chromium stainless steel riff on the "Venus of Willendorf." Produced in the style of his "balloon" sculptures, the piece is a tribute to the 25,000-year-old fertility totem considered to be one of the earliest known depictions of the human form.
On Wednesday, Koons was in a private back room at the blue chip Chelsea gallery wearing a skinny-lapel Dior Homme suit and his perma-becalmed visage. A two-foot tall polyurethane resin version of his "Balloon Venus" lay in repose on the table beside the 58-year-old artist. A bottle of Dom Pérignon Rosé Vintage 2003 lay inside the sculpture's bulbous belly to form an extravagant nesting doll.
"I don't do very many product associations," Koons said. "But you know Dom Pérignon is a fantastic brand, a wonderful Champagne. Champagne is used on many occasions for celebrating."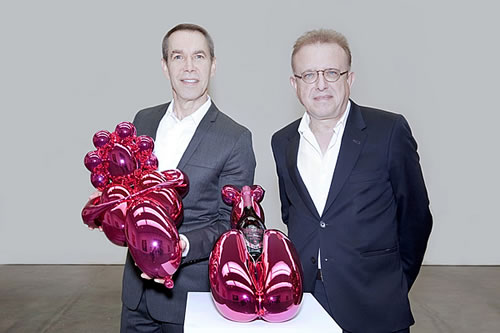 It was early afternoon on a day of promotional duties pegged to the collaboration. Koons had come in that morning from his family getaway in York, Pa. Even during his final interview on the subject, he displayed the much-noted, soft-spoken and altogether earnest bearing that has made him American art's greatest, or at least most financially successful, living cipher.
"The 'Balloon Venus' here in the gallery," he said, referring to the oversize original, "even to manufacture, it's a couple of million euros. "So you have your Dom Pérignon, which has its own expenses in production, but this is just something more accessible to people," Koons went on. "And even though it is still a luxury, there is greater accessibility and at the same time it's a product that's able to be made and to the highest standards."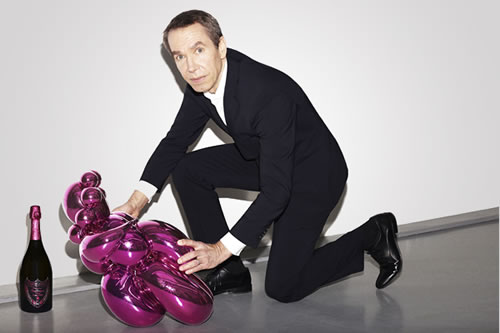 Accessible is a relative term. The Champagne and sculpture package, limited to an edition of a few hundred, will sell at retail for about $20,000. It is a staggering price tag to be sure, and one that slingshots past prior Dom Pérignon artist collaborations that have include Andy Warhol and David Lynch. (The winery will also offer two, presumably less costly, Koons gift boxes.) But in Koons' superstrata of the art market, a place populated largely by billionaires and those well on their way there, it qualifies as a value play. (Christie's sold one of Koons' "Tulips" sculptures to Steve Wynn for $33.7 million last year.) It was easy to envision, as one of the half-dozen p.r. reps on hand suggested, the statuette displayed proudly in offices in certain aspirational banking circles come the holidays.
As for what the prospective Masters of the Universe will be imbibing, Dom Pérignon chef de cave Richard Geoffroy seated in separate private Gagosian chamber, described the offering with an expressiveness nearly opposite Koons'.
"To be honest, this particular vintage, specific vintage rosé 2003, will remain historic. It sounds very solemn, but I'm telling you it's that important," he said. "It's about as bold, as provocative…as full bodied, intense, sensuous as can be."
Geoffroy said that the label first approached Koons with the idea two years ago, and gave the artist free rein on the end design of the package. Given the decade lead-time of the Champagne, it appears to be a happy accident for all involved the vintage will come to market in the midst of a Koons bonanza in New York. In addition to the Gagosian show closing next week, another display of new work will wrap Saturday at David Zwirner Gallery. Next year, The Whitney Museum of American Art will close out its current Upper East Side location with a massive retrospective for the artist. There will be need for spirits to toast.
"If I'm going to celebrate something then [I] have Champagne," Koons said. "Most often we have Dom Pérignon, but I have a total of eight children and I have six young ones at home so I'm always on call, so it's a little less frequent than it used to be."