Executives, engineers, and more than 1,000 Camaro owners will be on hand in Detroit to see the 2016 Camaro for the very first time this afternoon. The sixth-generation Camaro will debut in front of applauding fans and a parking lot filled with cars from every generation of the famed ponycar.
Unlike many model makeovers, the Camaro will actually get smaller, faster, and nimbler, as engineers adopt the same rear-wheel-drive platform as the Cadillac ATS, and it will address many of the flaws in the current Camaro, such as interior quality and visibility. Furthermore, the new Camaro adds new powertrains and suspension and creates a better variety of Camaros.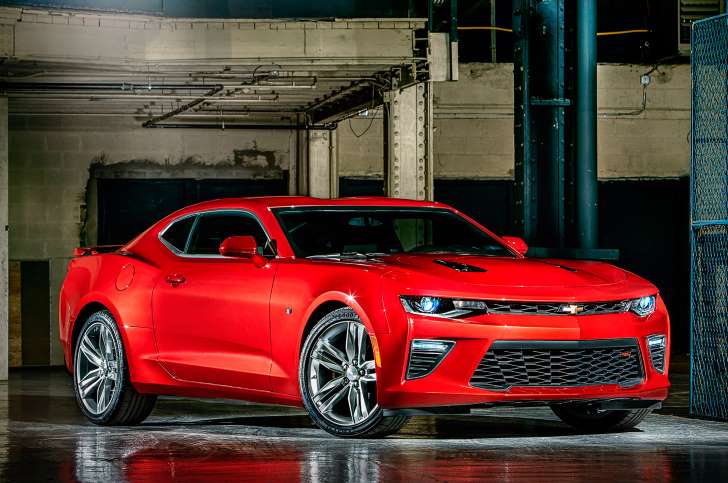 The made-over Camaro comes about six months after the all-new Mustang was launched with much fanfare. How much did the Mustang influence the final version of the Camaro? During the New York International Auto Show, Motor Trend asked General Motor's head of product and huge Camaro fan Mark Reuss if he had a chance to evaluate the Dearborn stallion.
"Yes," he said.
Did it cause Chevy to make any last minute changes to the Camaro?
"No, not a thing."
Let the muscle car wars begin again. It's a fight that any enthusiast should love.
Chevy is confident that the final product will speak for itself. However, it will follow a similar path as Ford with the type of models it will offer, judging by the powertrains. First there's the all-new 2.0-liter, turbocharged four-cylinder engine. This engine creates 270 horsepower and 290 lb-ft of torque. Although Ford offers a 2.3-liter, turbocharged four-cylinder vehicle, that one is considered a mid-level vehicle. Chevy will tout its turbocharged Camaro as its base model. This will be the most efficient Camaro on the street and deliver better than 30 mpg on the highway, Chevy officials said.
Then there's the all-new 3.6-liter, direct-injection V-6 Camaro that will create 330 horsepower and 285 lb-ft of torque. Of course the Camaro SS will come with GM's LT1 engine, a 440-horsepower, 450 lb-ft of torque, 6.2-liter V-8 that will feature active fuel management that can shut off four cylinders when cruising along the highway. Additionally, the SS will come with magnetic ride control for the first time. Transmissions include a six-speed manual with active rev-matching and an eight-speed automatic with paddle shifters.
[contentblock id=1 img=adsense.png]
The bigger story for the Camaro, however, is the diet engineers put the chassis and body on, helping it lose more than 200 pounds overall. Engineers and designers cut weight at every opportunity. The bulk of it was done throughout the car's architecture. Performance, however, was not sacrificed, as the body is 28 percent stiffer. Other elements, such as the instrument panel frame, were changed from steel to aluminum. The new Camaro did lose some size, but in a good way. The car's overall length went from 190.6 inches to 188.3, but it got .8 inch wider and 1.1 inches lower. Its wheelbase also was shortened from 112.3 inches to 110.7 inches.
The end result is a much nimbler car. I drove back-to-back comparisons between the 2015 V-6 Camaro and 2016 prototype V-6 Camaros at GM's proving grounds and could feel the stiffer body, more responsive steering, and a definite improvement in cornering. The new Camaro felt more responsive in all the ways you'd want a muscle car to feel. (It's a given that a total of four laps on a GM track does not reveal that it will perform as well on the open road, but I'm optimistic.)
[contentblock id=2 img=adsense.png]
Better yet, the interior is vastly improved with higher-grade materials, a thoughtful design, and an optional 8-inch high-definition screen at the top of the center stack.
Some of the additional room comes from the added electronic brake. The damage done to overall interior space because of the shorter wheelbase was restricted to the second row.
"Look, every sports car gets a score of 1 [in interior space] from Consumer Reports," one engineer said. "You can't get any lower. If we added space there, we would still get a 1. It seems smarter to focus on other things." Indeed. If you find yourself in the second row of a Camaro, your best option is to go buy your own and make someone else sit back there.
[contentblock id=3 img=gcb.png]
The Camaro also adds an LED ambient light system with 24 different colors with fade and transition effects. The lighting is just one of eight different systems the driver can adjust. Others include throttle progression, shift mapping, engine sound, and magnetic ride control.
One of my favorite improvements is the lowered point where the windshield meets the dash. This gives you significantly better visibility than in the current Camaro. That has always been a major Camaro weakness, and Chevrolet fixed it.
The changes to the exterior are much more subtle, but it does have a more sculpted body and fastback profile. It looks like a Camaro through and through, just slightly more refined with LED taillamps and defining light bars that are different for each variant. Some past owners might not like the looks of the new Camaro. But they'll definitely love driving it.