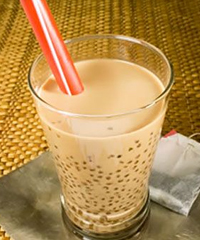 "Bubble tea is very popular, especially to Asians, but now, more and more people from different backgrounds like the taste of it. It's simple but some of the ingredients may be a little tough to find. Just be patient and look for them in Chinese grocery stores."
Ingredients:
1 teaspoon white sugar
1/3 cup pearl tapioca
1 cup brewed black tea
2 tablespoons milk
4 teaspoons white sugar
1 cup ice cubes
Method:
In a small saucepan, bring 2 cups water to a boil. Stir in 1 teaspoon sugar until it dissolves. Toss in         the pearl tapioca. Cook for about 20 minutes. Rinse, drain, and refrigerate until chilled.
Pour tea, milk, and 4 teaspoons sugar into a cocktail shaker. Stir until the sugar has dissolved and the milk is well mixed in. Add the ice cubes, and shake so the whole drink can get cold. Pour into a glass, and add tapioca.
notes:
This drink can be turned into Bubble Green Tea if you use green tea instead.  If you can find it, use Chinese rock sugar, or bing tong, to cook the tapioca with.