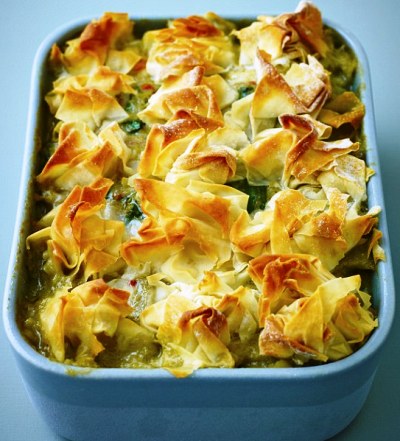 Food special: Quickish Thai fish pie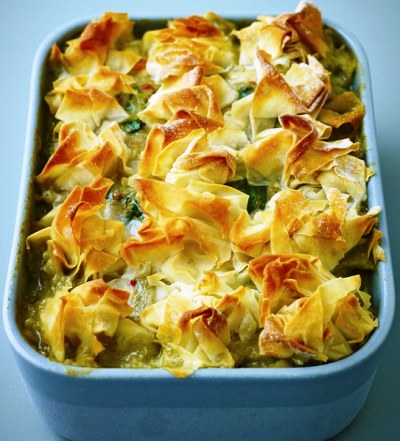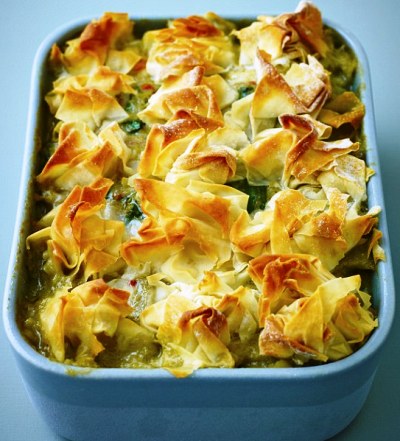 I have a fish pie recipe in my Baking Made Easy book – a traditional affair with the ubiquitous eggs, white fish and other usual suspects. Although fish pie is a British favourite, my family simply would not eat it. I love fish, I really do, and I love pie, so I had to come up with something that the whole family could enjoy. Coconut milk and Thai green curry paste lift this subtle-tasting pie into the realms of something rather special. This Anglo-Asian dish is not to be sniffed at and has now made it into the top-ten dinners on the LP wall of fame – no mean feat with all the demanding mouths around my table! If you want to make it ahead of time, just make the fish filling and pop it in the fridge. Leave the filo off until you are ready to bake it so the pastry retains its crispness.
SERVES 4
500g (18oz) skinless, boneless sustainably caught fish (I used salmon and haddock) cut into big bite-sized chunks
16 raw, peeled tiger prawns, about 175g (6oz) total
100g (31⁄2 oz) fresh or frozen peas
1 x 400ml tin of low-fat coconut milk
4 tbsp Thai green curry paste
2 garlic cloves, finely chopped
2cm (3⁄4 in) piece of ginger, finely chopped
1 red chilli, finely chopped
juice of 1⁄2 lime
a large handful of basil leaves
salt and freshly ground black pepper
PASTRY TOPPING
2 sheets of filo pastry, defrosted
● Preheat the oven to 180C (fan 160C), 350F, gas mark 4.
● Toss the fish, prawns, peas and a little salt and pepper together in a medium bowl and then divide the mixture evenly between four ramekins or hot pot dishes. Mine measure about 10cm (4in) wide, 6cm (21⁄2 in) high and are 450ml
(16fl oz) in volume.
● Arrange them on a baking sheet and set aside.
● Put the coconut milk, curry paste, garlic, ginger and chilli into a wide pan. Stir them together well to combine and set over a high heat to bring to the boil. Reduce to simmer for 2–3 minutes, stirring occasionally, and continuing until reduced and thickened. Stir the lime juice and basil through and season to taste
if necessary.
● Divide the curry sauce mixture between the 4 pie dishes. Rip the filo pastry into pieces, lightly scrunch them up and place them on top of the filling to cover. Pop into the oven to bake for 15–20 minutes or until the fish is cooked through and the pastry is crisp and golden brown.
Via- dailymail