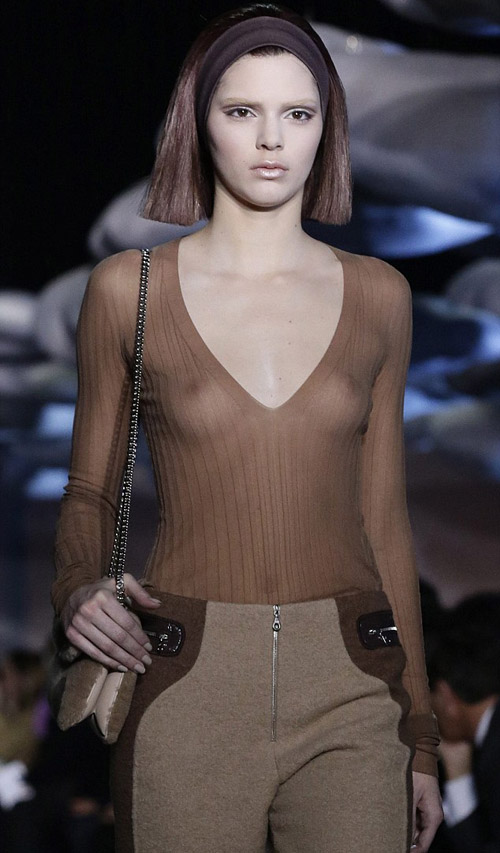 She has made no secret of moving away from her reality show image to make it into the big time as a top fashion model. And Kendall Jenner certainly managed to wow the fashion world on Thursday as she strutted out on the catwalk at the Marc Jacobs Fall 2014 Show in a sheer top, sharp bobbed wig and powdered out eyebrows. All eyes were on the 18-year-old Keeping Up With The Kardashians star who showed off her slender figure in the light brown v-neck top, two toned cropped trousers, coordinating tights and shoes.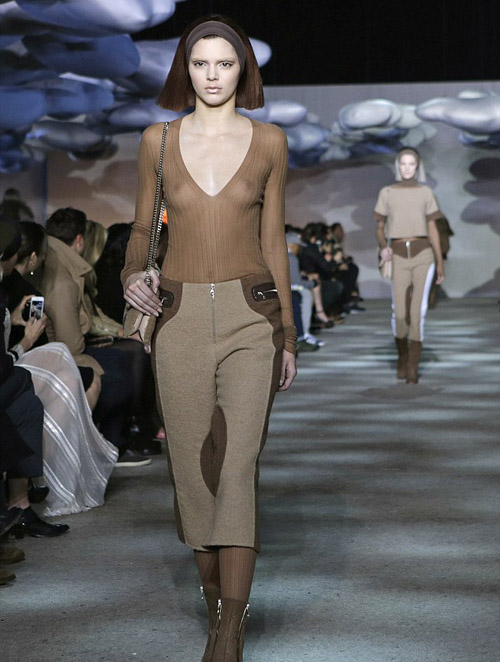 Her half-sister Khloe Kardashian was extremely proud of Kendall's appearance at New York Fashion Week, posting several snapshots of herself via Instagram. She wrote alongside the snap: 'My baby sister killed it today walking in the Marc Jacobs fashion show!!! Kenny you are so dope to me!!! Congrats my baby!ProudSis.' The reality star began her modelling career by signing up to the Wilhelmina agency at age 14. The teenager then signed up to prestigious new agency The Society Management back in November – the same modelling agency that represents Liu Wen, Adriana Lima, Tao Okamoto and Lindsey Wixson.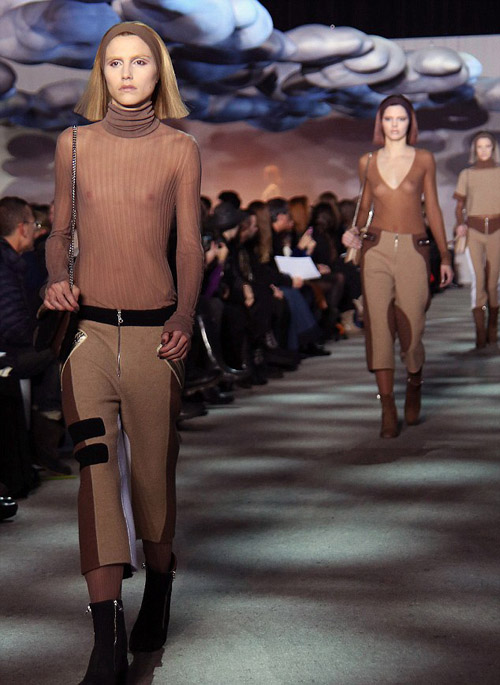 In an interview with V magazine last year, Kendall revealed she decided she wanted to become a model at the age of 13 and maintained she wanted to be taken seriously away from her reality show career. 'I don't think some people take me very seriously,' she complained to the magazine. 'When I started off, I was way more of a personality in modelling and it wasn't like, what I wanted to be exactly. 'I want to be more high fashion; I want to be more editorial, but hopefully I'll just prove myself.'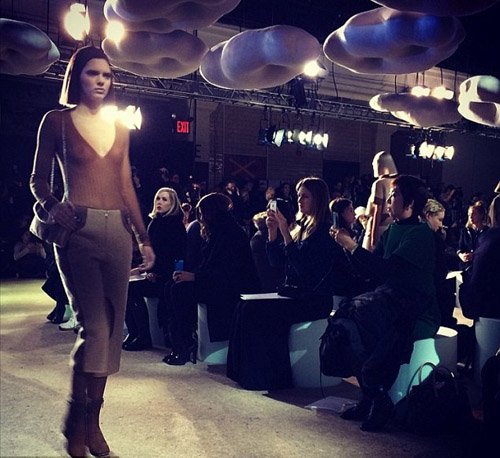 The star revealed ambitions to work for the 'big designers' citing Chanel and Dolce & Gabbana as personal favourites.'All those big ones are my ultimate dream,' she said, adding that she had only recently become interested in runway work. 'Editorial more, but I do runway,' she said. 'I didn't think I'd want to do it but I've grown a love for it. It's so fun for me.' Meanwhile, the show attracted a smattering of celebrities including perennial Fashion Week fan Joe Jonas, Sofia Coppola and 12 Years A Slave actress Sarah Paulson.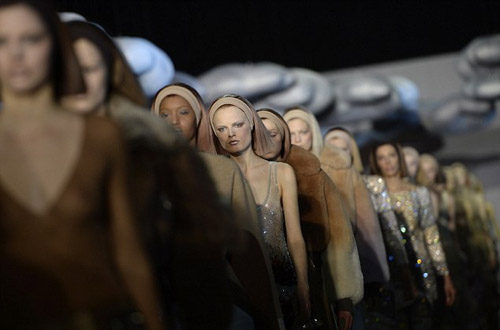 The Marc Jacobs show is the traditional end to New York Fashion Week, and the superstar designer always makes the most of it, putting on a production that will stick in a fashion is ta's mind at the end of eight long days of runway shows. And Jacobs held true to his tradition, filling the enormous Lexington Avenue Armory with puffy clouds – actually cloud-shaped pillows hanging from the ceiling – and serenading the crowd with the message that Happy Days Are Here Again. The clothes did not seem to offer much of a clue to the message.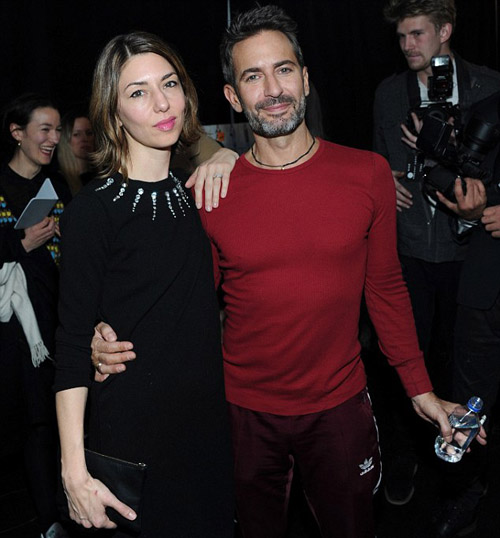 They started with dresses in neutral colours — cream, grey, brown — and moved on to tops and pants, and then to knit separates, and long sheer long tops. Then came a series of sequinned tops and dresses, including a long-sleeved, multi coloured sequin dress, and some big boxy jackets. The show ended with a series of clothes adorned with tiered ruffles. There were ruffled pantsuits, and a few delicate ruffled dresses. 
-Dailymail