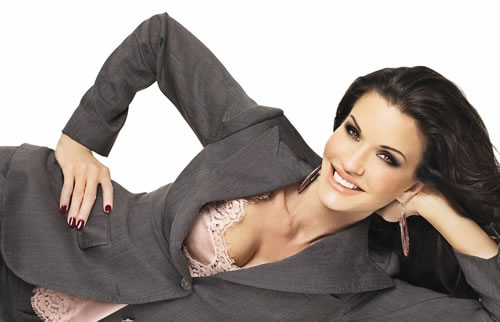 Veteran Janice Dickinson is among those few who have ruled the modeling industry for whole life, despite rather an aged person now, she is still very active in modeling industry. Dickinson was born on February 15, 1955 in Brooklyn borough of New York City. However, Dickinson was raised in the glamorous capital of the world, The Hollywood. This was an influence of city or genetic trait that two out three sisters including Janice Dickinson became a model.
Unfortunately Janice Dickinson had an awful childhood and teen years. Her father, Ray Dickinson was one of the worst fathers who not only care about her daughters but also tried to sexually abuse them. One of her sister got victim of her father's brutality, however, Dickinson was strong enough to not let her father have any sexual relation with her. She had to pay in return, when she used to stop her father. She was verbally and physically abused every time she refused and put fight against her father's brutality. Once she grew up, she was very open and vocal about her father's pedophilic nature in public.
Career:
Dickinson was always interested in modeling. After winning a national championship called Miss High Fashion Model in 1970, Dickinson decided to move to New York to pursue a dream of being a model. This era in modeling industry was being dominated by blue-eyed blondes. She was often refused because model agencies find her too ethnic. To Dickinson's credit, despite being turned down on numerous occasions, she did not lose hope.  Jacques Silberstein, a fashion photographer discovered her through her girlfriend, an actress Lorraine Bracco .
She had to travel to Paris for her modeling career. Dickinson's move to relocate herself to Paris paid off and her exotic looks impressed many. In 1978 she returned back to New York and continued her modeling career earning $2000 per day. In those time she was earning more than four times as compare to any other model. Real up thrust to her career was given after signing ad deal with JVC cameras. She started working for same Ford agency which once refused her and told her that she cannot work in fashion industry and Dickinson remembered it like a yesterday. She was considered the top super model in 1980s. She appeared in many covers of magazines like Harper's Bazar Cosmopolitan, Photo, Elegance, Vogue, Marie Claire, and Playboy
Dickinson, the supermodel:
One may had seen Janice Dickinson speaking about how she came up with the term super model. She claims that during 1979 when she was working way too much her manager praised her by saying that you are superman for working so much and in reply Dickinson replied with "I am super model". Although this claim is controversial and it seems that this word was being used before as well. Nonetheless Janice Dickinson was certainly a super model who remained the queen of millions and still remembered by many.
Television Career:
In 2003 Janice Dickinson appeared in a reality show called America's Next Top Model as a judge. Dickinson had issues with other judges on panel regularly which eventually brought case of her being expelled. This decision did not go well with Dickinson and according to her, she was very hurt and was only telling the truth. She regularly appears on TV.
Relationships:
Janice Dickinson got married thrice but could not hold to any of those marriages for long. In her books she openly writes about her sexual encounters with Hollywood's actors and actresses. She had numerous affairs in her life and was often seen as sex hungry woman. Currently she is engaged to Dr. Robert Gerner, a psychiatrist.