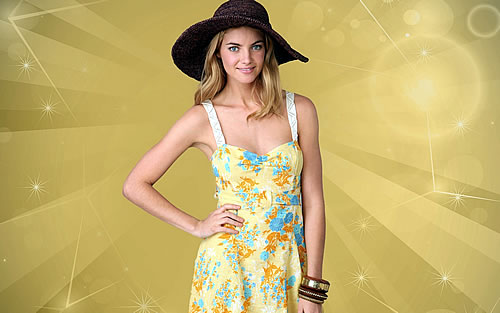 Elyse Taylor is a hot Australian model who is into modeling since the age of 18. She was born on 20 October 1986 which makes her a Libra. Elyse is residing in New York and her home town is Vaucluse, Sydney, Australia. It is obvious from her nature that she has a warm and enthusiastic approach towards life and that's what her zodiac signs emphasis on. Taylor was discovered at age 18 by an agent, Ursula Hufnagl, owner of Chic Models, who happened to be her model friend's agent. She later walked in fashion shows for several brands including the famous Dolce & Gabbana, Moschino, Bottega Veneta, Tommy Hilfiger and Trussardi.
Coming to Elyse Taylor's features, she is 5 ft 9 in (1.75 m). Blonde hair color with a fair complexion and her eyes are Blue which makes even her face look sexy. Elyse Taylor's wicked little curves and stunning looks help kick off the week with a Shwingtastic bang. This Aussie babe is rapidly fetching to become one of the most favorite new models.
 She has also appeared on the covers of the most famous magazines of fashion world which include the Australian Vogue and the Polish and Swedish editions of Elle. These covers gave her career a boost and made this sexy lady lead the models from Australia.  In 2008, she was named one of the faces of Estée Lauder. Model Elyse Taylor is most likely best known for her work with an Australian fashion brand 'Kensie'. In addition to that she is also famous for her appearance in the Victoria's Secret Fashion Show in 2009 because of her amazingly attractive looks and style. In 2011, she was named the face of surf brand O'Neill.  She was also selected as a judge for the O'Neill Model Search, as she was also the ambassador of O'Neill.
O'Neill Girls ambassador Model Elyse Taylor Launched the swim line that is inspired by her world travels as a professional model. That swim line by O'Neill looks simple, classy, pleasing and urbane. "My collection for O'Neill, which is inspired by my world travels as a model, features high-end fabrics and feminine details." said Elyse.
 In an interview with Fashion TV, Fashion model Elyse Taylor told that she misses her home land Australia and she visits her home twice a year, including Christmas and in summer vacations, which certainly shows her attachment to her country and her people. When asked her that how did she get into modeling she answered that after finishing her High school she had no idea what she was going to do and she went down with her friend and the rest is history. For Elyse modeling is fun and it gives you a lot of opportunities to meet new people every day and travelling. Elyse Taylor has no idea what she would be doing other than modeling and she finds it funny.  When asked about acting Elyse Taylor said that she will see if any good offers come to her then she will definitely won't miss the opportunity.
One of the most interesting project the Fashion Model Elyse Taylor did you a shoot for Tommy Hilfiger which they did in the Arctic circle as it was freezing cold there and it was a challenge for her to shoot there on the snowmobiles.  For her she the most embarrassing moment was a nude shoot on Tamarama beach which was open for public which was pretty messed. But recently she did a couple of more nude shoots for different brands including Purple Magazine (NSFW) which was published on March 2013. Taylor was shot by Matteo Montanari in a New York apartment the pictures were full of artful nudity.
In real life Fashion Model Elyse Taylor is a very joyful and a jolly person. She loves to travel and she says her free time is not very exciting as she falls asleep or watches TV at the most. She stays happy and laughs to make people happy. Elyse Taylor is very professional when it comes to modeling otherwise she has a very relaxed nature.
One can see a lot of Fashion Model Elyse Taylor's pictures and videos online on different famous websites, but her page on Facebook is not active and her fans want her to get active on Facebook though she is somewhat active on twitter showing activities once in a while. Elyse Taylor is generally very friendly and there are hardly any online rumors about her and she is expected to get more successful in coming days.