Anna Kendrick, Rebel Wilson & the rest of the gang are joined by newbie Hailee Steinfeld for another round of a cappella-related mirth, directed by Elizabeth Banks. 
[contentblock id=1 img=adsense.png]
Reprising the kind of musical performances, campus hijinks, stinging humor and sassy sisterhood put in place by its eminently likeable predecessor, Pitch Perfect 2 remixes the elements and comes up with something even slicker and sharper. As the film's Fat Amy (Rebel Wilson) might say, they've crushed it.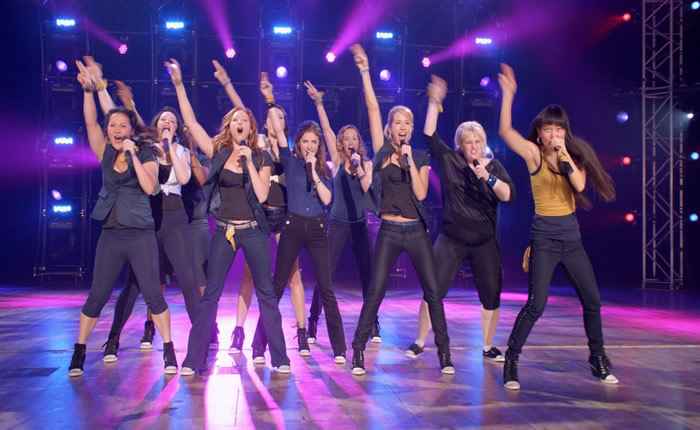 However, it's not like we don't have notes. With more characters in play in addition to the regulars, returning screenwriter Kay Cannon (a 30 Rock alumnus) and cast-member-producer Elizabeth Banks (directing her first feature) have to scramble hard to keep all the component parts in harmony. That means some endearing elements from the first movie, like the romance between Beca (Anna Kendrick) and her tenor boyfriend Jesse (Skylar Astin), barely get a look in, and the number of cameos from famous faces is beginning to approach Anchorman­-like levels of silliness.
But none of that will stop this from being a smash, likely to outstrip the $112-million-plus worldwide takings of its sleeper antecedent in every territory. The opening sequence finds history repeating itself with an onstage embarrassment. Pitch Perfect started by putting the all-girls campus a cappella singing group the Barden Bellas on the back foot when their leader Aubrey (Anna Camp) sprayed chunks over the audience at the climax of their performance at Lincoln Center.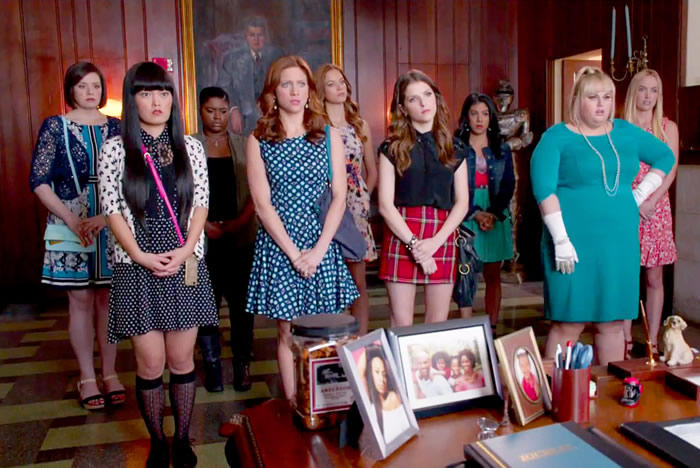 Here, four years on from the events of the first film, the humiliation is even greater when Fat Amy's spandex outfit splits in the middle of a performance in front of President Obama and the first lady to reveal she's gone commando, producing a widely reported scandal ("Muffgate"). That mishap gets the Bellas officially reprimanded by the overlords of competitive a cappella's governing body, represented by podcasting co-presidents Gail (Banks) and John (John Michael Higgins).
[contentblock id=2 img=adsense.png]
The latter's line in smoothly delivered misogyny — "Let's hear it for the girls too ugly to be cheerleaders!" — and casual racism throughout is even funnier this go round.Although the terms of the disciplinary action prohibit the Bellas from holding auditions, there's nothing in the ruling that says they can't take on "legacy" members like eager freshman Emily (Hailee Steinfeld), whose mom (Katey Sagal) was a legendary, five-octave-ranged member of the group back in the 1980s.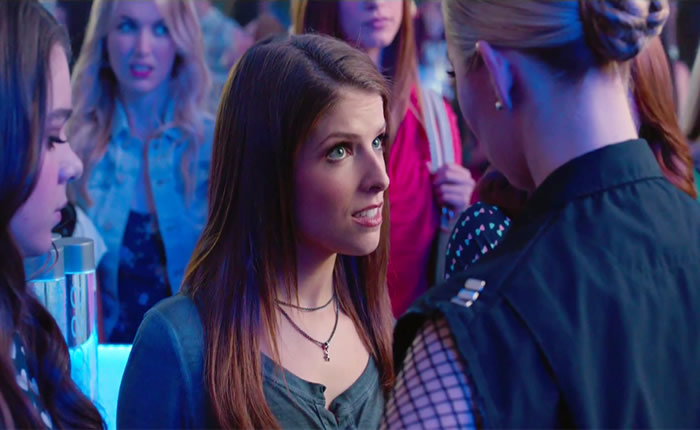 Another new face is that of Flo (Chrissie Fit), a Central American transfer student who keeps dropping references to her horrifically impoverished childhood into the conversation. With Aubrey graduated and gone, chipper Chloe (Brittany Snow) is now the group's spokesperson and chief choreographer, with Beca in charge of arrangements. But due to a new job interning at a record label under the orders of a demanding boss (Keegan-Michael Key, vivid in just a few scenes), Beca's attention is divided, and like the others her confidence is eroded as she sees what they're up against when they go to the world competition in Copenhagen. 
Taking on the antagonist function, now that some of the girls are openly dating members of Barden College's other star a cappella outfit The Treblemakers, is Teutonic supergroup Das Sound Machine, an arrogant bunch of "Deutschbags" as Fat Amy terms them, led by the Kommissar (Dane Birgitte Hjort Sorensen fromBorgen), a Valkyrie-like chanteuse and her simpering if strapping second-in-command Pieter (YouTube-star Flula Borg).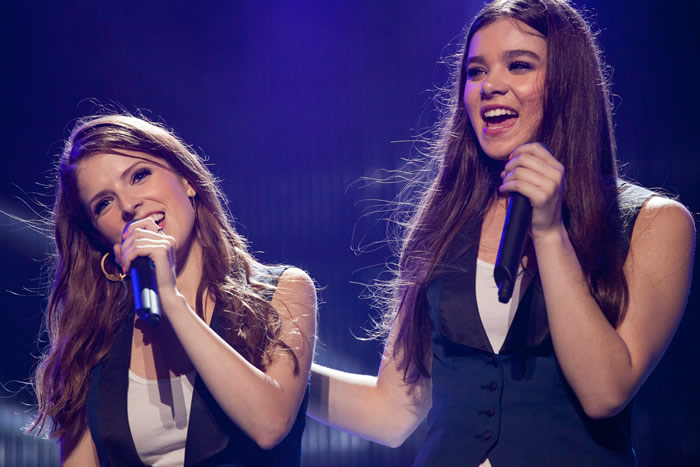 As the Bellas are bested and intimidated by them in a series of official and off-the-books throw-downs, the girls start to forget who they are and what makes them special, resulting in misguided stage experiments in light-up hula hoops and pyrotechnics that literally threaten to burn them up.
[contentblock id=3 img=gcb.png]
The unfortunate member whose hair is set alight is butch-Bella Cynthia Rose, played once again by the magnificent singer-songwriter extraordinaire Ester Dean. Her limitations as an actor are discernible, but it's still a shame the film doesn't give her more solos to show off that belter of a voice, apart from letting her sing the closing-credit tune.
Via: billboard