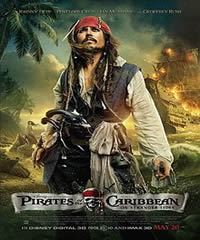 Johnny Depp is once more back with his iconic role of Captain Jack Sparrow and once again, woos the audience away with his mindboggling presentation of a rowdy pirate. In this action packed adventure, Jack Sparrow crosses paths with the inscrutable Angelica (Penelope Cruz) and is not sure if what he feels for her is love or whether she is just out to use him as a bate and con him for the magical Fountain of Youth. When Angelica forces him aboard the Queen Anne's Revenge ship, which is the vessel of the legendary pirate Blackbeard, Sparrow is caught in a whirlwind of adventure where he doesn't know whom to fear more, the ruthless pirate Blackbeard or Angelica, with whom he shares a past.
Surprisingly better than the last two films in the series of Pirates of the Caribbean, this part misses out on two of the most liked characters to be found in the first three parts of this movie, Keira Knightly and Orlando Bloom. The story is a little far fetched, but one expects nothing less from the Pirates series.
One refreshing change in this part is the breath of fresh air that the new characters bring in it. Along with Barbossa and Sparrow, characters such as Angelica and Blackbeard enthrall the audience and manage to give a fresh dimension to the franchise of the Pirates clan. Being the first 3D movie in its franchise, On Stranger Tides offers a lot in terms of supernatural adventures, sword fighting and humor.
Although this part of the epic journey of Jack Sparrow's life may not be the best summer movie to come out in the summer of 2011, it still promises a lot in terms of welcoming the return of the familiar from a series that proves that there Jack Sparrow has still a lot to offer and there are a few jaunts of Sparrow yet to be told. This makes for an unexpectedly entertaining summer movie and keeps you hooked, albeit a little nonchalantly, to the screen for a run time of 136 minutes.