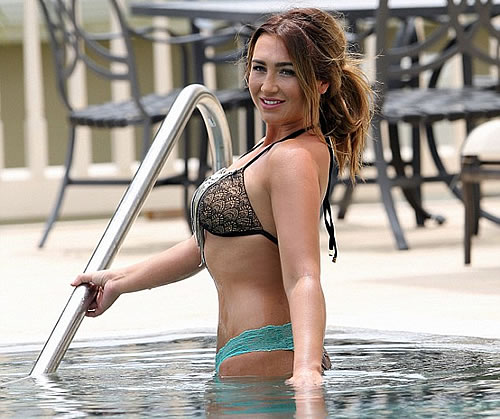 She's famously battled her weight, and has previously admitted she has a 'problem' with eating. But Lauren Goodger well and truly silenced her critics as she showed off her newly-slimline figure while on holiday in Antigua. Posing up a storm in a tiny tassel-detail bikini, the 26-year-old reality star flaunted her tiny waist and pert derriere as she soaked up the sun in the pool at the exclusive Blue Waters resort.
Showcasing her incredible hourglass curves for all to see, the former TOWIE star looked as though she was keen to show off her toned body in all its glory. Lauren made sure to command attention in her striking metallic two-piece, which featured diamante embellishment, fringing detail and an aqua lace waistband. With an extremely skimpy cut around the bottom area, the eye-catching bikini showed off not only the entrepreneur's recent weight-loss, but also her impressive honey tan.
Wearing her brunette locks pulled back from her face into a loose ponytail and much less make-up than usual, Lauren looked the picture of happiness as she soaked up the Caribbean sun. Appearing in a playful mood, the curvy starlet cooled off with a refreshing dip in the pool, before launching herself on to the side as she grinned into the camera. And keen to keep her Twitter and Instagram followers up to date with her every move while on holiday, Lauren made sure to post a variety of intimate snaps as she worked on her tan.
The star was holidaying with her boyfriend Jake McLean, who she recently admitted is particularly enamoured by her curvaceous derriere. She told new! magazine: 'Jake loves my bum! He says he likes my curvy figure and finds it sexy. I think most blokes like girls with a bit of meat on them. 'Curves are sexy, aren't they? I love my bum and boobs! It's nice to be toned as well – it's not about being curvy and flabby.' Before shedding the pounds with a sensible diet and exercise regime, Lauren admitted she thought about her weight battle every moment of the day.
She previously said: 'I think about it all of the time – from the moment I get up. But I still struggle to do anything about it. It's upsetting me more than anything, it's like I'm punishing myself. 'When I think about it it all gets too much. I think everyone looks at me and thinks; "She's fat." I hate the way I look. I've tried boot camp, had a personal trainer and a nutritionist. But I just start eating again. 'I have a problem. I just want to eat all the time. I don't have any willpower. But, I want to change badly.'
Source: Dailymail