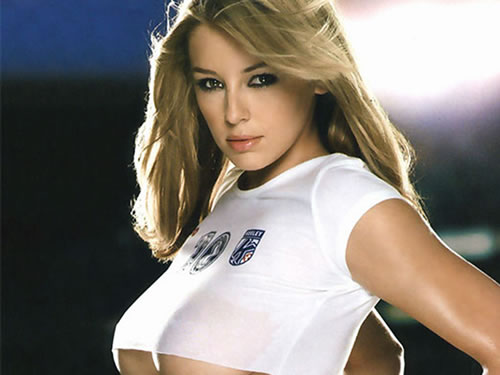 Everyone knows about the model Keeley Hazell. She is a supermodel and started her modeling career from the age of 16. She was born on 18th September 1986. She was born in the city of kings which is London. She belonged to a very middle family and her parents work together to meet the ends.
She has a very simple childhood and she went to Ravens bourne School. Her parents got divorced when she was little and she has two siblings, one younger and one elder. When she was in her teens she mostly come late home, she started drinking and due to this reason she always misses her school. She was not a very good student in school due to her family problems and these problems lead her to drink.
If we talk about her looks than I must say she is a very noted model due to her figure. In the year 2007, one of her sex tape was released by her ex-boyfriend on the internet. The video was from some holidays where they went and the place was Spain. She became really scared and reported this incident to the police but the video is still on the internet.
Keeley Hazell left the school when she was 16 and started working as a hairdresser. She is a real beauty and her beauty made her a successful model. She won a competition which made her really famous in the world of modeling. The competition was on the search of Beach babe. She has a perfect height and she is really humble.
She also took part in another competition and she was too lucky that she won that too. In this competition she won very sexy clothes which were worth around ten thousand dollars. This competition changed her life and she also won a year contract of modeling with the sun.
The magazine named the zoo was really famous by her. She was in every magazine till 2008. Keeley Hazell was rated as one of the top models as she also appeared on the cover of the famous magazine the Sun in the year 2006 and 2007.
During that time period the supermodel left this magazine and signed a contract with another magazine named as Nuts. In the year 2008 the sexiest model also appeared in the famous magazine called Playboy.
Other than magazines and fashion shows she is also on the play station games. She is the face for play station portable, play station 2 and for play station 3. She also worked in some BBC documentary from there she got much fame.
She also did a short film by the name of Venus and Sun in the year 2008; this short film got much popularity. The great model has done everything to prove her. She also played a role in some new movie. The super model also works for charity and she thinks that charity can change life of many peoples. She feels happy and satisfied helping others. She has a good nature.