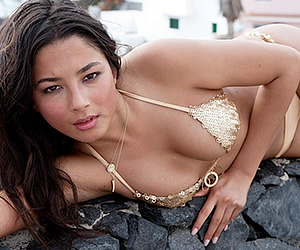 About Jessica Gomes Early Life:
Jessica Gomes was born in Perth, Western Australia on the 18th of April 1985 but she is Singaporean Chinese and Portuguese heritage because her mother is Chinese Diaspora of the Singapore whereas her father is Portugal. She loves to call her with her nick name Gomes.  Jessica Gomes has spent her early life in her hometown Perth, Western Australia with her two brothers and two sisters. Since 2007 she is living in NYC (New York City), United States of America. It's Jessica Gomes talent that she appeared in very young age of 13 on the Hit TV show Bush Patrol, her appearance in this show was the first step of her successful career.
Jessica Gomes Beauty Features:
Jessica Gomes is an eye catching role beauty in the glamour world known for her hot figure of US size 36-25.5-36 while for EU size 91-65-91. She has an ideal height of 5ft 9.5in say 1.77m. Jessica Gomes fulfill the entire plus as professional hot model with brunette (dark brown) shiny hairs and dark brown intelligent, speaking eyes. Her eyes are actually mirror of her talent.
Highlights of Jessica Gomes Career:
Jessica Gomes in her career has mostly got the fame for magazine cover modeling. She has continuously appeared in the last four years editions of Swimsuit Issue of the United States of America. Jessica Gomes has been front face of 2008, 2009, 2010, and 2011's of these editions. She also got the fame when got body painting from the popular body paint artist Joanne Gair.
Hot model Jessica Gomes was one of the seven hot models who were the part of a record group of seven "rookie". She also has been the role model for the advertisement of other known companies like LG electronics, Motorola, looked very stunning in the advertisement of DKNY jeans and Urban Outfitters. Jessica Gomes has also been modeling for beauty cosmetic company Garnier.
Jessica Gomes has been front face of Diddy's Unforgivable fragrance. Hot model Jessica Gomes has not only modeled for one country magazine, it's her sexy look & figure that she has been handily taken in Italian GQ magazine, American Glamour Magazine, Vogue Magazine. She also had shown her talent as hot model in the Victoria Secret Catalogue.