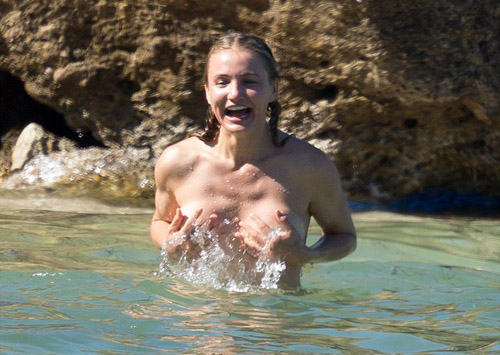 Cameron Diaz goes Skinny-dipping
She might be getting older, but there can be no doubt that There's Something About Cameron. The fun-loving 41-year-old stripped off her bikini for a skinny dip with her friends while on girls' trip to the Caribbean last week.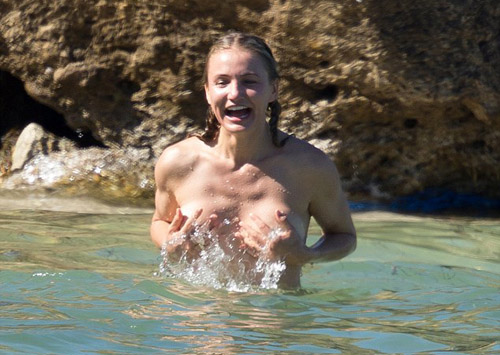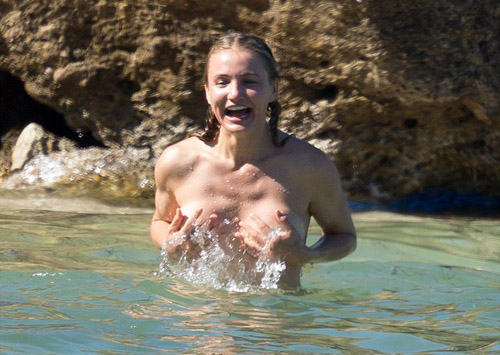 And it looked like she was having a blast as she hooted with laughter while diving into the azure ocean. Cameron jokingly put on a strip show to amuse her laughing friends, pulling teasingly on the strings of her striped blue bikini top and pulled an exaggerated face as it fell off. Then breaking into gales of laughter, she flung the top to the side before grasping her breasts in her hands. The star, clad in her tiny red bikini bottoms, then enjoyed a dip with her friends. Surfer girl Cameron Diaz was not content to sit quietly sunning herself on the sidelines.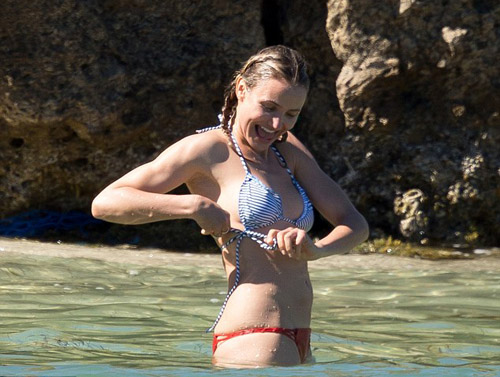 Instead she shared a glass of wine with her chums before taking it in turns to leap into the water from some rocks on the secluded shoreline. Her healthy figure on full display, Cameron wore her blonde locks tied back in a pretty but functional plaited style for her swim. She has recently spoken about the pressure on women to remain 'forever 25', and how she has finally overcome it. In a new interview with Oprah, Cameron revealed she had finally embraced the aging process.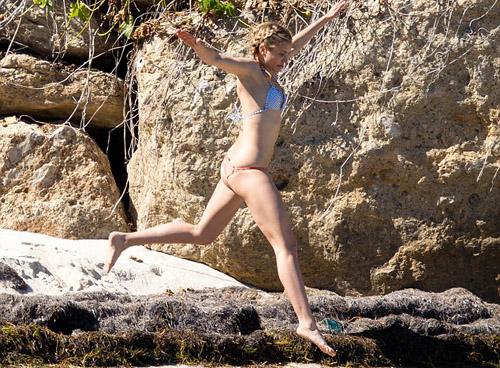 'It's a gradual thing and you get to learn about yourself and see yourself and start to live with who you are as you go,' she told the chat show host in a new excerpt from her OWN channel. She said that women 'don't give ourselves permission to age gracefully' and that they are constantly told they have to 'defy nature'. Diaz herself has in the past fallen victim to the guilt she describes and has had Bot ox which she regrets as it changed her face in a 'weird way'.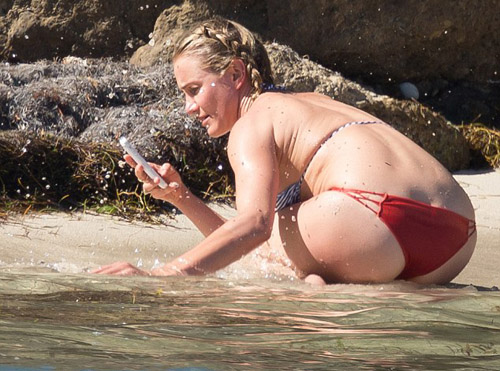 She had a nose job after breaking it four times and has spoken about her battle with acne, revealing that she tried everything from makeup to medication to make it go away.  Diaz said: 'For me I feel like if I – it is almost as if we have failed if we don't remain 25 for the rest of our lives.''Like we are failures. It is a personal failure. Like our fault that at 40 years old that I still don't look like I'm 25.' Dailymail