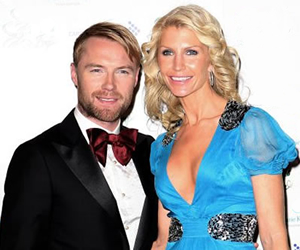 Ronan Keating has decided to start a new life and these days he is also one of the judges for X Factor. Ronan had an affair with a backing dancer Francine Cornell which became the reason for Ronan and Yvonne to end their 14 yearlong marriage. They recently announced that the marriage is over. Ronan Keating recently tweeted that "Sadly our news is true. Yvonne and I still care for each other and want to protect our kids."
Ronan Keating is 35 year old and he has three kids and he is also planning on moving to Sydney where X Factor is being filmed. Ronan friend said that their marriage never properly worked after Ronan's 2010 affair and the both of them have been trying their best to do whatever they can for the kids, their marriage is finally coming to an end. Ronan has been spending a lot of time in Australia and he loves it. His career is also getting better in Australia and not to forget he loves the lifestyle over there.
Yvonne said that their marriage had ended some time last year but they were keeping the news to themselves for people to get time to adjust to it.