She loves putting on a kinky show, but Rihanna certainly met her match in a kinky photo spread for V Magazine. The Diamonds in the Sky singer, 25, and British model, 39, took turns stripping off for the Mario Testino shoot. In the issue which hits newsstands February 28 the infamous bad girls of the music and fashion worlds pose in a sexy, S&M-themed shoot.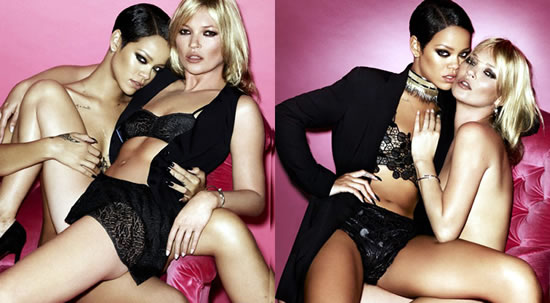 The publication has a dual cover, one with supermodel being naked and the other with Rihanna unclothed. The duo first met back in 2009 at the Met Gala, which British Kate was hosting with designer Marc Jacobs.  Moss had graciously gone up to Rihanna to ask for a picture for her daughter, Lila Grace, and Rihanna was star struck by the move.
The singer remembers thinking: 'I didn't know she had a child, and she still looks like this? So there is still hope for people who want babies and still want to be sexy.' The two bumped into each other again last February at a Stella McCartney presentation. Photographer Mario Testino was chatting with Rihanna about when he would photograph her next and Moss was just nearby. Rihanna said about the occasion: 'Kate overheard us talking and she said, "I want to do it with you!"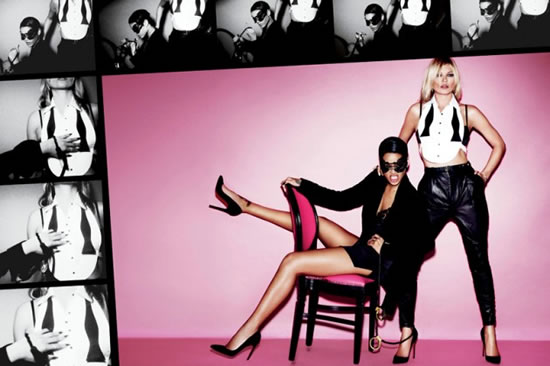 Again, I was like, "Are you f**king kidding me?"… I was dying on the inside. All my fantasies were coming true: Mario, V, Kate Moss.' The duo had a lot of fun on set with blonde Moss saying, 'That was hilarious.' Rihanna comments of Moss, 'She is just an awesome, cool little rockstar.' Naturally, the creative direction of the shoot ended with the confident pair getting naked.
Rihanna laughed saying, 'And that was the best shot…Take her top off and put that bitch on my lap!' On shooting together again Moss said she would do so 'In a heartbeat.' Rihanna commented: 'That depends on the terms, but I'm sure Kate knows them.' – Dailymail