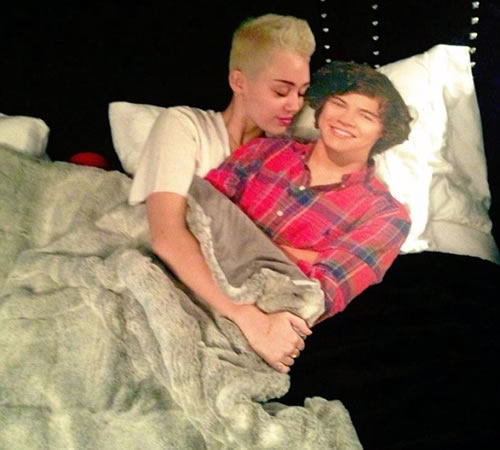 He only just split with Country Music star Taylor Swift just days ago. But One Direction star Harry Styles has already moved on to fellow American singer, Miley Cyrus. The singer was seen getting up close and personal with the British star. But before Miley's fiance Liam Hemsworth gets ready to blow his top, the former Disney star was only getting saucy with a life-size cardboard cut-out of the teen heartthrob.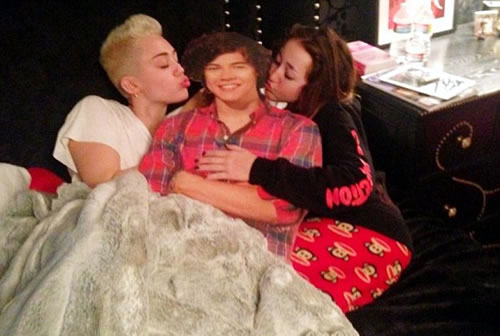 The 20-year-old singer and actress had a ball on Twitter on Tuesday, posting pictures of herself cuddling up to the very lifelike paper Styles in her bed. In snaps shared with her fans, Miley and her sister Noah larked about with the giant cut-out. In one hilarious image, both Miley and her younger sibling puckered up to the cardboard, with Miley writing: 'All I want for my birrffffday is a big booty h**. All @noahcyrus wants for her BIRFFFDAY is @harry_styles.' Shortly after Miley shared another snap, this time of just herself cuddling up to the fake Styles as she pretended to sleep.
It wasn't too long before Twitter went into a frenzy, with fans speculating that Miley had a crush on  Styles. The blonde-haired star, who is currently engaged to Hunger Games actor Hemsworth, promptly asked fans to relax, stating that the snaps were all in good humour. 'In no way do I want Harry. No offense. I'm sure that'll be a story now 2. I'm happily engaged. Just got saucy with a cardboard cut out,' she wrote.
Harry Styles and Taylor Swift ended their month-long fling just days ago. The Red singer, 23, split with Styles, 18, after an angry row during their New Year's vacation. A source told MailOnline exclusively: 'Yes I can confirm they have split up. 'They were on holiday and had an almighty row. They are two young stars at the top of their game so who knows what will happen in the future.'  After spending Christmas apart the pair had jetted off to the British Virgin Islands on New Year's Day to spend some time together. But things did not go to plan and Swift ended the holiday early, flying back to the U.S. on her own after just three days on vacation on January 4. – Dailymail