One is an iconic star of the silver screen, the other found fame in a decidedly dodgy home movie. But Kim Kardashian was transformed into Audrey Hepburn as she recreated a classic shot of the Fifties starlet riding a bike.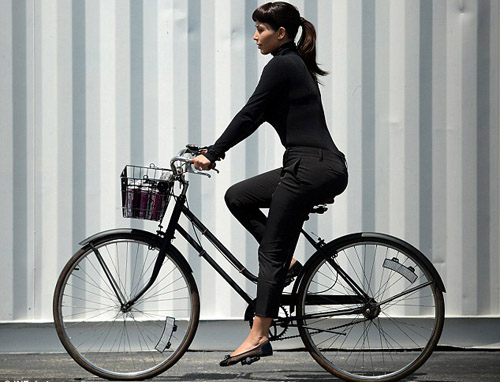 If it came as a shock to see the 33-year-old sat confidently astride two wheels, her outfit was even more surprising. It's hard to say what was more of a change – the ponytail and fringe or the sensible flat shoes – as Kim Kardashian rode in circles in Miami. However it was clear she felt at ease perched on the bike's saddle, as she was photographed on the shoot. Audrey was pictured in an identical pose back in 1954 on the set of Sabrina by Mark Shaw in an iconic shot. Kim Kardashian had jetted to Miami from Paris for the shoot, after enjoying a brief visit with her husband-to-be Kanye West.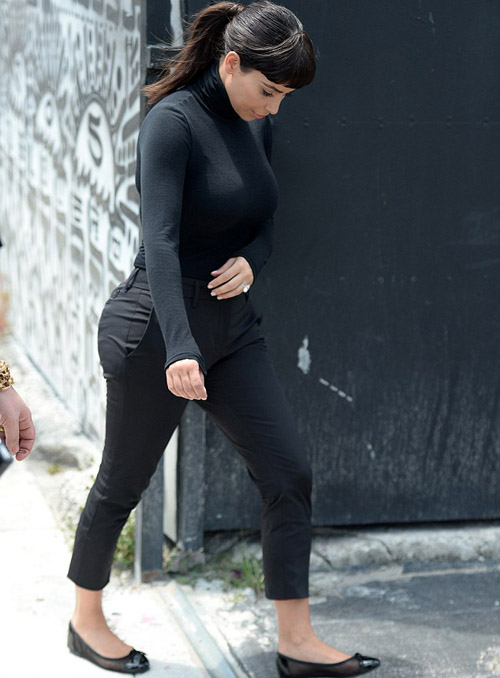 The pair were pictured enjoying a date night on Sunday in the French city, where they plan to wed next month. Kim Kardashian Ye kept people guessing about their planned location for the May 24 nuptials, by visiting yet another possible location for the eagerly awaited nuptials. Chateau Louis XIV is meant to resemble a 17th century castle. But at just six years old, it has all the amenities a modern girl could wish for.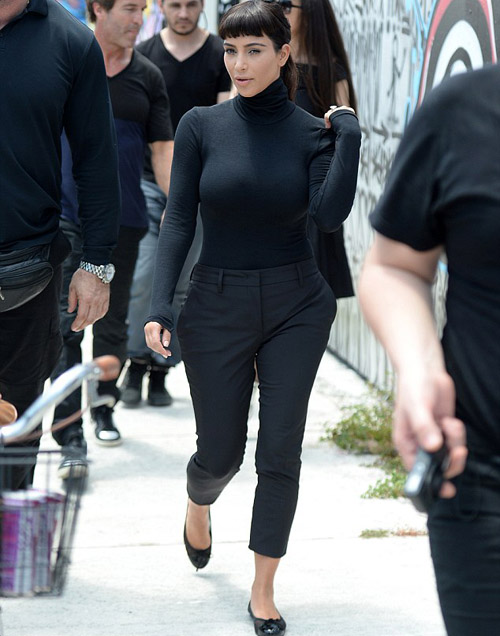 It seems the mother-of-one, who was without daughter North, was just in the French capital for a fleeting visit. She was spotted jetting back in the States – Miami this time – late on Monday evening wearing the black velvet dress she had started her day in and looking remarkably fresh faced.  While in Paris, Kim Kardashian revealed a fresh hairstyle – a short bob – but it appears the new look was just a passing experiment as her hair was back to its usual length by the time she was sighted in Miami After the shoot.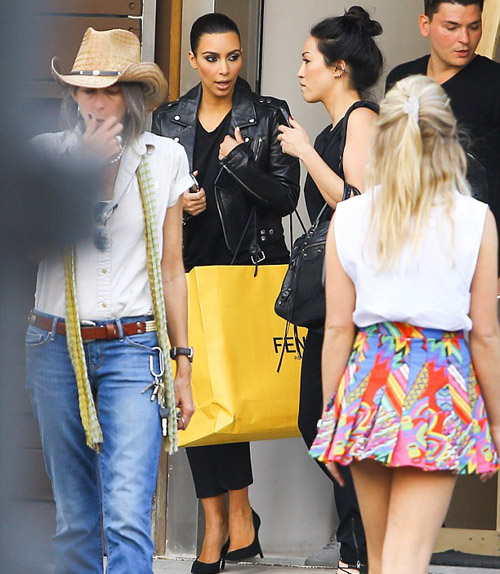 The reality star was seen shopping in Miami while holding onto a large yellow bag full of her purchases from Italian luxury house Fendi. Her outfit stayed pretty much the same on the retail therapy trip except she switched out the black flats for a black pair of heels and added a black leather biker jacket. Her make-up was also different from the more natural look during the photo shoot and she had her hair tied back in a tight ponytail. -Dailymail