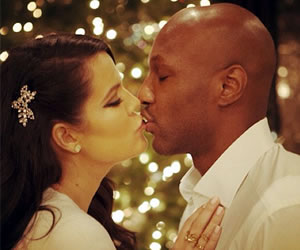 Khloe Kardashian and Lamar Odom have been hit by tabloid claims of marriage troubles in recent weeks. But the couple certainly looked very much in love in behind-the-scenes snaps from her family's annual holiday shoot. The pair, who married in September 2009 after a brief whirlwind romance, shared kisses and cuddles between takes of the recent Christmas card.
Kim posted the pictures on her website on Wednesday, saying: 'We had such a fun time together at our Christmas card shoot this year! Here are some behind the scenes pics from our shoot.' X Factor judge Khloe, 29, looked stylish in a figure-hugging frock while NBA player Lamar, 33, kept in theme with a white suit. The athlete has been accused of having 'wild nights' partying at clubs 'without his wedding ring'. InTouch magazine claimed on Wednesday that their marriage is 'hanging by a thread' and is under strain because of his lack of form on the court and her struggle to get pregnant.
Khloe has previously said there was 'no strain' in her relationship with Lamar. (A spokesperson for MailOnline did not immediately respond when contacted about the claims on Wednesday.) Meanwhile, other behind the scenes snaps show Kim and Kylie dancing around for the cameras and holding hands. With her boyfriend Kanye West deciding to sit out the shoot, the reality star, 32, turned to her sister for company.
She also took along her kitten Mercy, who later passed away because of illness. Only some family members are featured in the candid pictures – probably because the photograph was shot in multiple sittings. Khloe recently revealed several family members – including herself, Lamar, Scott and Kendall – had to be digitally added into last year's picture using Photoshop. She said: 'We pretend that we're always together. The powers of cameras and Photoshop.' – Dailymail