Whoa! Justin Bieber posted a naked picture on Instagram in hopes of getting his 32 million followers to 'look' at him. Well, it worked because we're totally looking — over and over and over again. See the uncensored nude photo here!
[contentblock id=1 img=adsense.png]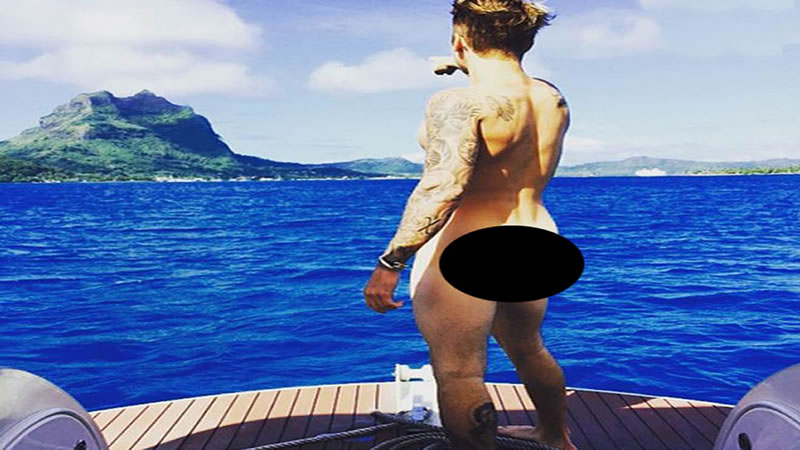 Well, that's one way to get our attention, Justin Bieber. The "Baby" singer, 21, posted a picture of himself fully naked on Instagram July 6, while captioning it with "look." Oh, we're totally looking. And so should you! See the picture here.

Justin posted the surprising picture on July 6. See it below. (But in case the singer deletes it, you can see it above!)
We're not sure why the singer felt compelled to post a naked picture of himself, but we're not complaining. In fact, we're elated. We just wish he would have turned around for a second photo. We're joking. (Sort of.) Just look at the way the sun hits his cheeks in just the right way. It's mesmerizing. Justin's naked backside actually has more of our attention than the paradise behind (or in front of?) him, so that says a lot. But this isn't the first time the Biebs has dropped trou and mooned the world.
[contentblock id=2 img=adsense.png]
In August 2013, Justin showed up to his grandma's house wearing nothing but a guitar, which hung from a strap around his neck. The musical instrument was big enough to cover his frontside, but Justin's butt cheeks were on full display! Maybe Justin got inspiration from ESPN's recent "Body Issue," where sports stars like Odell Beckham Jr., Bryce Harper, Natalie Coughlin,Kevin Love, Chantae McMillan, Amanda Bingson, and Ali Krieger stripped naked.
A photo posted by Miley Cyrus (@mileycyrus) on
Either way, Miley Cyrus had a funny way of reaction to Justin's nude pic. She suggested a butt face-off between the Biebs and Rihanna, who showed off her cheeks in her new "BBHMM" music video.
[contentblock id=3 img=gcb.png]
See the pics below.