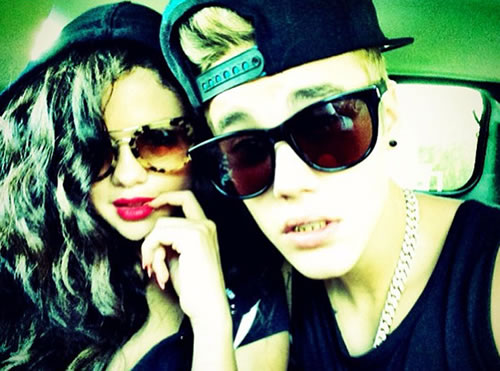 Wherever they were, it's highly unlikely that Justin Bieber and Selena Gomez were celebrating independence from each other last night. Though he doesn't indicate when or where it was taken, Bieber just today posted a pic on Instagram of himself with Gomez, tagging the shot "#heartbreaker" (the name of his next song) and attracting 123,000 comments (and 637,000 heart-shaped stamps of approval) in just a few hours.
They reportedly attended the same Fourth of July party—a version of events that seems to be supported by an Instagram video posted last night by Bieber BFF Alfredo Flores. The 15-second snippet is mostly of Flores wielding a crackling sparkler—until it quickly cuts to Gomez, tongue wagging in an "I'm feeling silly!" fashion, waving her own party favor. "blow it up blow it up! Happy Independence Day!" Flores wrote.
Speaking of blowing it up, "Jelena" started trending worldwide on Twitter not long after Bieber clicked his Instagram pic into being. "Great night," Bieber tweeted, right around the time Flores was posting his video. Reps for Bieber and Gomez have not yet returned requests for comment.
During a radio interview in May, Gomez replied that she was available in "every way" when the host grilled her about being single or not following her backstage smooch with Bieber at the Billboard Music Awards. – Eonline