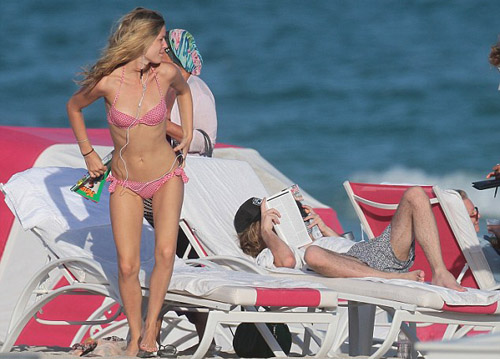 It's the fabric that has formed many a young lady's primary school uniform, but Georgia May Jagger proved that gingham isn't just confined to the school playground. The 22-year old model wore a red and white bikini featuring halterneck straps and bottoms which tied in bows at the sides on a beach in Miami to soak up the sun. Georgia May went make-up free and looked the complete beach babe with her honey-blonde hair wavy for her Wednesday by the sea.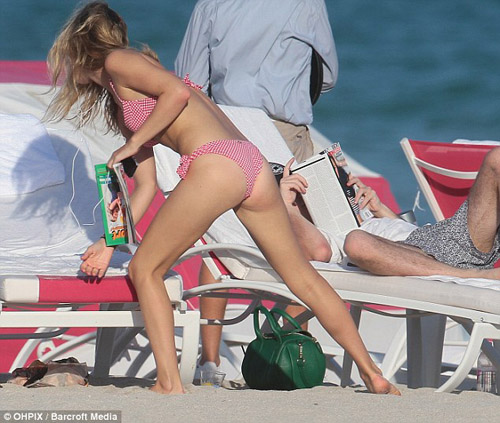 Jagger was joined by a male friend in Miami, and the two read magazines side-by-side on sun loungers and listened to tunes on their music players. Georgia May may well be in Florida to take part in a photo shoot, just a day after her campaign for Thomas Sabo was revealed. The 22-year-old has been unveiled as the new face of the jewellery brand and has been given a feminine, floral makeover for their SS14 campaign.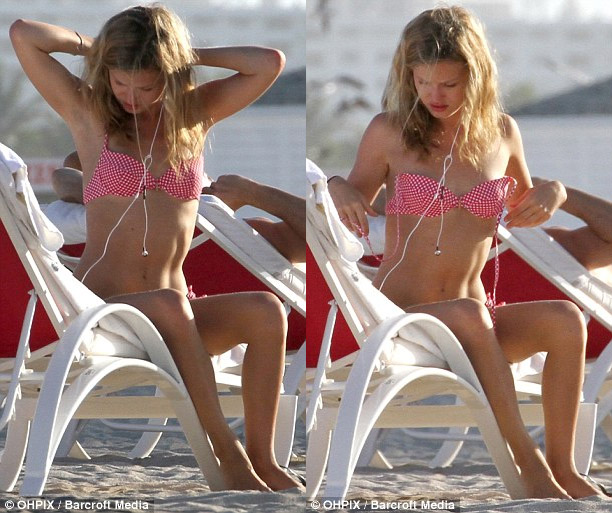 Shot by fashion photographer Ellen von Unwerth, Georgia May takes over from Poppy Delevingne, but surely there would be no hard feelings as the daughter of Jerry Hall and Mick Jagger lives with her sister Cara. The new campaign comes just after some spectacular birthday celebrations where the model headed to Berlin and Las Vegas to party with Suki Waterhouse, Tyra Banks and of course her housemate.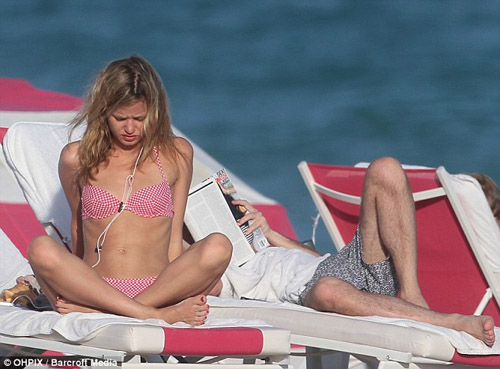 Georgia's boyfriend Josh McLellan didn't seem to be in Miami though, but the two seem to be as loved up as ever after starring in a Sisley campaign together. The couple met when she was 19 and he 22, through her brother, James, who plays the punk band Turbogeist with Josh.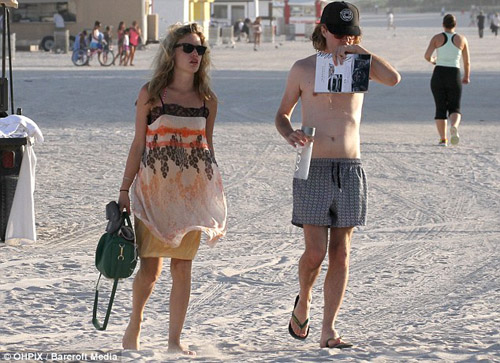 Georgia had previously been in a relationship with Django James Stewart, the son of Dave Stewart, the Eurythmics star, and Siobhan Fahey, of Bananarama and Shakespears Sister. Like her mother, Jagger clearly has a thing for rockers, but she won't be following in her father's footsteps any time soon.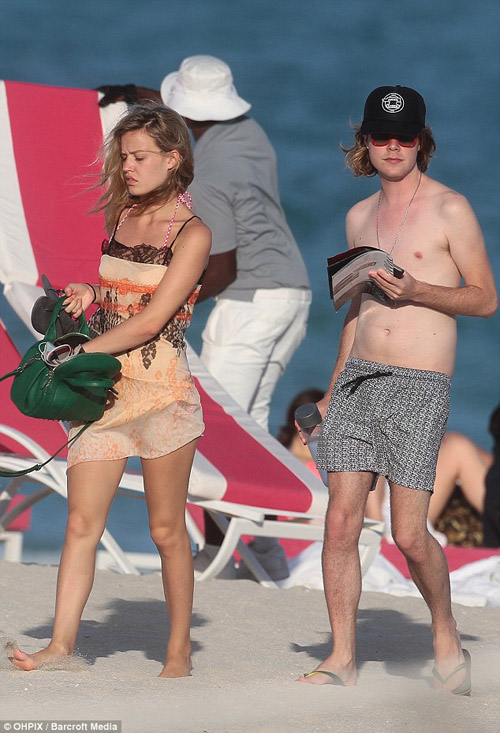 'I like singing in the shower. I really go for it on old Destiny's Child songs and Aretha Franklin. I like to think I have a good voice, but I don't,' she told Marie Claire. -Dailymail