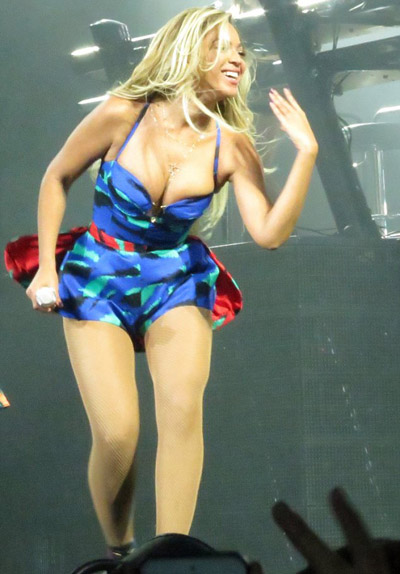 She lost weight on a vegan diet late last year and concerned fans were worried Beyonce Knowles' famous curves were gone forever. However, the 32-year-old singer proved that is not the case as she took to the stage at the SSE Hydro in Glasgow, Scotland, for the latest leg of her The Mrs. Carter Show World Tour on Thursday night. Beyonce dressed in a blue and green playsuit, which not only highlighted her long, toned legs, but the plunging neckline displayed a great deal of her cleavage.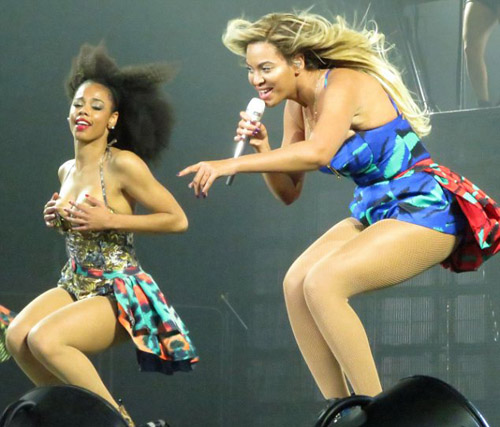 Blonde Beyonce was squeezed tightly into the daring number, which featured a mini-train at the back. She left her long blonde hair loose around her shoulders as she threw herself into her energetic set. While Beyonce's plunging playsuit won over many of the locals, she is sure to have swayed everyone over to her side by another one of her outfits.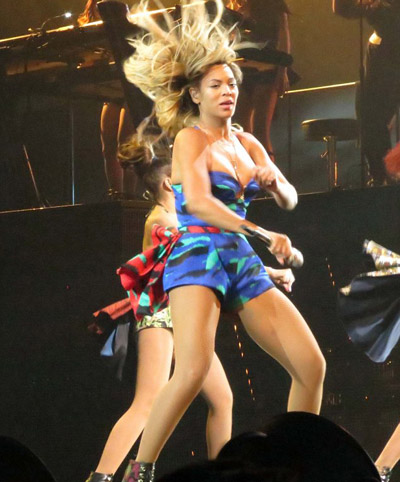 One way of impressing the locals on your world tour is to wear an outfit that means something to them. And that is exactly what Beyonce did as she took to the stage while wearing tartan. The singer wore a shirt decorated in the pattern, which is particularly associated with the country, and featuring several black beads and stars sewn onto it.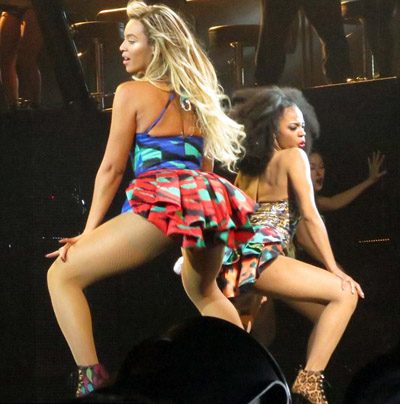 She also opted for a pair of tiny leather shorts and continuing with the leather look, she sported a cap in the same style as she blasted out hits during her set. The superstar singer sported an array of outfits including a stunning black bodysuit with silver embellishment.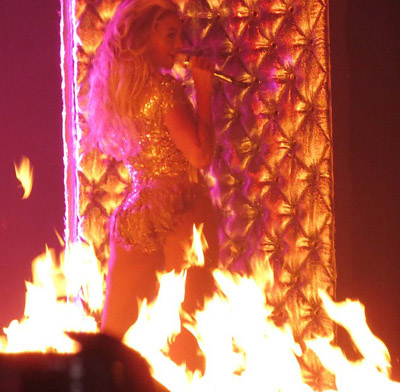 She also stunned in a sparkly dress with a sheer skirt and see-through panels on the bodice. And her choice of thigh high boots and short dress after yet another outfit change will have pleased her fans. Beyonce turned up the heat on her performance at one point by performing in front of several huge flames at the back of the stage. The mother-of-one's Scottish performance comes just one night after she took to the stage at the BRIT Awards to sing XO.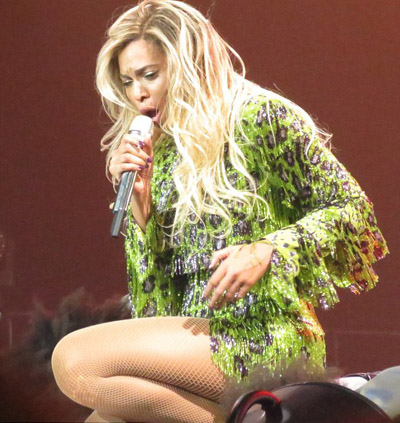 She wowed in a green sequin dress by Vrettos Vrettakos during the rendition, and, as always, made the stage her own. Beyonce has since shared a series of shots on Tumblr that show just how important having her husband Jay-Z behind the scenes is as she prepares for such events.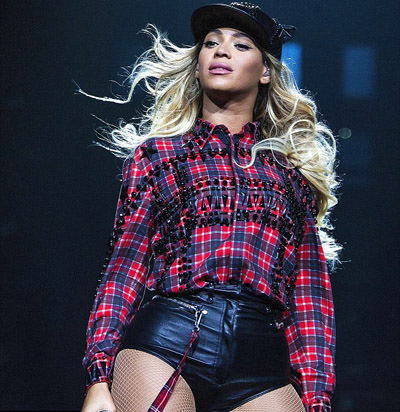 The series of photographs show the rapper by his wife's side as she prepares to take to the stage, kissing her head tenderly and later the two of them dancing in their hotel room in Glasgow after the the short flight north to her gig following the London event.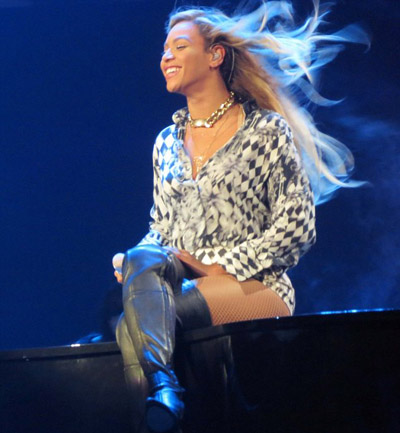 The global superstar, who wore $2M of diamond jewellery from her favourite trinket maker Lorraine Schwartz for her performance according to Us Magazine, was almost a well kept secret for the UK's biggest music event. But Beyonce was spotted boarding a private jet in Prestwick, Scotland, as she prepared to head down to London ahead of the ceremony at The O2.  Dailymail