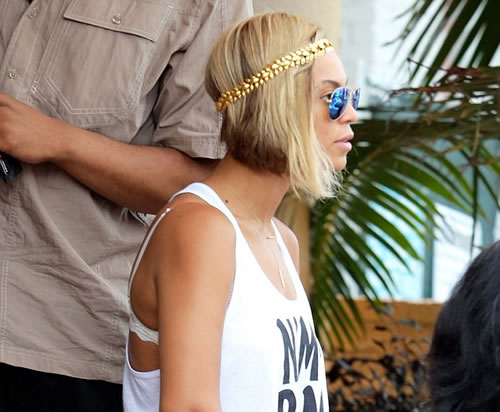 It didn't take long for Beyonce to get tired of her latest drastic style statement. Just a week after revealing her short pixie cut with a dramatic Instagram image, the Single Ladies singer's hair was longer again on Thursday as she left a Miami restaurant. Either wearing a wig or hair extensions, the 31-year-old showcased an asymmetrical blunt blonde bob after dining out with her family.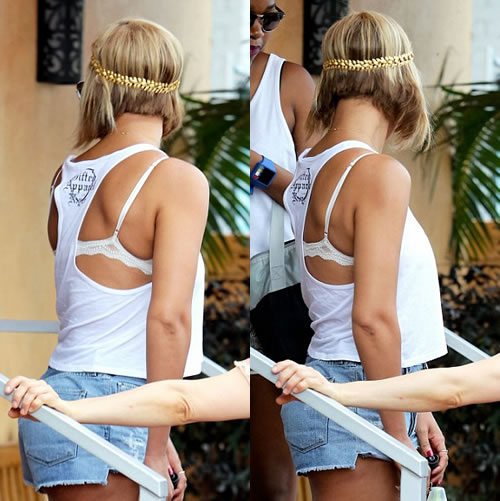 Longer in the front and rising at a severe razored angle in the back, the new style was reminiscent of one of Victoria Beckham's Spice Girls-era bobs. Dressed in a baggy white tank top that showed her lacy bra underneath and cropped denim shorts, the Destiny's Child singer embraced her new laidback look.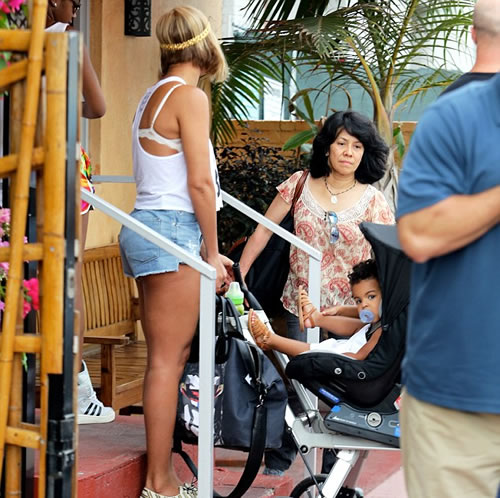 The causal ensemble was fitting for Miami Beach, where she is currently with 20-month-old Blue ivy watching Jay Z perform his final Legends of Summer show with Justin Timberlake. Beyonce was so excited to show off her short crop when she chopped off her locks on August 8, but the excitement clearly quickly wore off.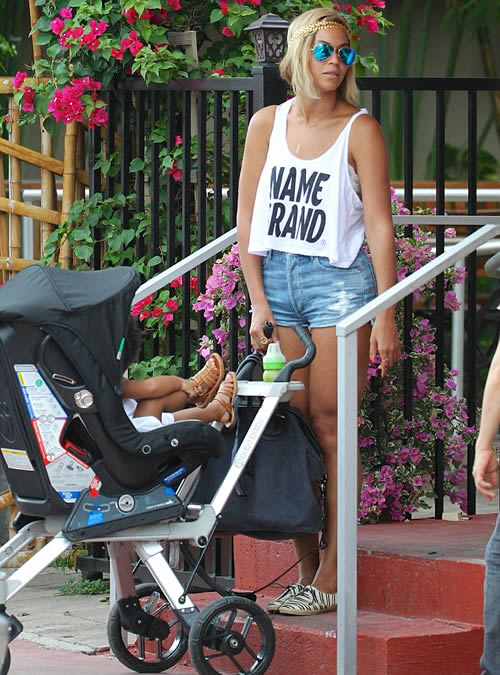 Along with her hair piece, she wore a gold plaited band around her head to keep everything in place. The Dreamgirls star completed her hippie ensemble with a gold-rimmed sunglasses and 'NAME Brand' emblazoned across her chest on her top.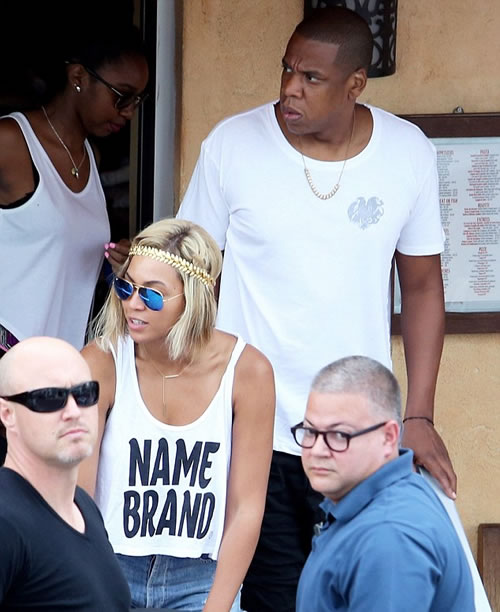 As she lunched at Silvano's Restaurant with Jay Z the day before he performed at the Sun Life stadium, the Crazy In Love singer was capturing some valuable couple time with her husband before she jets off to the UK this weekend for a pair of performances.
She and Jay will be also hitting the stage for his Made in America festival in Philadelphia, Pennsylvania, over the Labor Day holiday along with Phoenix, Nine Inch Nails, and Solange Knowles. The concert will wrap up a hectic summer for the Grammy award winning pair that has seen Jay Z touring from coast to coast with JT, and Beyonce on her Mrs. Carter Show global extravaganza.
Dedicated fans and world media turned Beyonce's haircut into a social statement last week, claiming it was feminist stand against society that has no doubt already spawned countless copycats. Having experimented with wigs and extensions for many year's Mrs. Carter's long time stylist revealed that she had actually cut off a good deal of her own hair.
'She had great, thick long hair, which she cut off because she's ready to make a statement. It's a great [one] to make: I'm beautiful, sexy, bold and I can do it all,' Kim Kimble told People magazine. 'She's the perfect model for that: A working woman, mom, superstar, businesswoman. She's powerful in herself.'
Beyonce appeared pleased by her transformation at first, as she posed staring at her reflection in the mirror while stroking her smooth head. Kimble, who also owns her own hair salon, Kimble Hair Studio in Los Angeles, says that when she first saw the Instagram image of Beyonce on Wednesday night she became both shocked and emotional because she knows how hard it is for the Irreplaceable star to grow her hair back.
'I got a little teary eyed! I've been working for her so long, she has this beautiful long hair and it's hard to grow hair out,' she told the magazine. 'I feel like it's my hair, I work so much with her. I feel a little emotional but excited for her too. Maybe I'll cut my hair off now. Short hair, don't care!' she exclaimed. As well as sporting long natural locks, Beyonce has been a diehard weave-wearer for years,which can damage her own natural hair.
Source: Dailymail