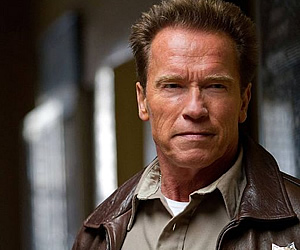 Arnold Schwarzenegger's affair has been his "biggest personal failure".
Despite the 65-year-old action star's 25-year marriage to wife Maria Shriver collapsing in 2011 after it was revealed he had fathered a secret love child, Joseph, now aged 15, with his housekeeper Mildred Baena, he isn't worried about the future or his relationship with his other four kids because he always bounces back from his mistakes. Schwarzenegger said: "This is not the first time I have been confronted by failure or by a disastrous situation. I've had my share of disasters. But there were more victories and I've always been able to get up again when I fall.
"I always knew how to enjoy life and I always believed very strongly in both working and playing really hard. And I have four wonderful kids … Well, actually, five … who have been a great joy, so life couldn't be better." The 'Last Stand' actor insists he still has a good relationship with his estranged wife – with whom he has Katherine, 23, Christina, 21, Patrick, 19, and 15-year-old Christopher, with – and insists they have been able to put their differences behind them and maintain a civil relationship for the sake of their family.
In an interview with the newspaper, Arnold said: "Under the circumstances, living in divorce, I have a wonderful relationship with my wife. There are no fights, we talk all the time on the phone and we raise the kids together. "We are responsible parents and we know the only way it works is if both of us work together and that is working really well." – Femalefirst