Selma Blair, star of "Cruel Intentions," has filed a restraining order against her ex-boyfriend Ronald Carlson, who was arrested for domestic abuse. Carlson is also seeking a restraining order against her, according to paperwork acquired by The Blast.
Carlson claims he was given a temporary order of protection against Blair from February 25 until March 22 in court filings. On February 22, he claims she harmed him emotionally or physically.
He requests the judge to keep her 100 yards or 300 feet away from him, his house, his job, his vehicle, and his daughter at all times, according to the document. Carlson is also looking for protection for his 12-year-old daughter. He's also asking for a no-contact and also no order, claiming she lives only four miles away and her kid attends the same school as his daughter.
Carlson is requesting that she "be enjoined and restrained from contacting me and my daughter via email, social media, text message or by telephone." He has also asked for Blair to be prohibited from contacting his daughter at school and claims that she has sent his daughter unsolicited text messages following the incident.
In the court documents, Carlson alleges that Blair "attacked me at her home, causing injuries to my face and body. Unfortunately, even though Selma was the aggressor and the one who initiated the attack, and I was the victim, she called the police after I left her home and falsely claimed that I had attacked her."
He claims that this caused him to be arrested in front of his 12-year-old daughter. He claimed that Blair had called his daughter "an f—ing loser" before she "swung at my face with her right arm and struck me in my left eye."
"We were still seated on the couch when she began to attack me with both arms, scratching and flailing toward my face," he wrote. "She hit and scratched my nose, eyes, and cheeks numerous times." He alleges that he took two photographs of his face which show scratches under his eye and his nose. He also claims that his left eye was "black and bruised and swollen."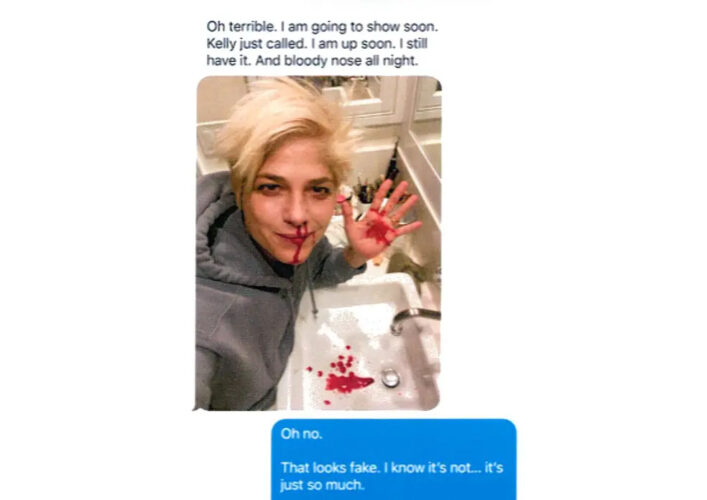 Selma Blair Also Files Restraining Order Against Richard Carlson
Selma Blair also filed a restraining order asking for protection for herself and her 10-year-old son. Her restraining order has already been approved. "My son lives with me and this attack occurred in my home," she wrote in the documents. "Respondent is the father of a child who goes to the same school as my son. I am scared for the safety of both my son and myself following this attack."
She also asks him to stay 100 yards or 300 feet away from her, her home, her workplace, her car, her son, and his daughter's school. She also wanted Pippa, her rescue mix dog, to be safe.
Carlson went to Blair's house on February 22 to drop off a TV set, according to the documents, while she was heavily medicated due to her Multiple Sclerosis treatment.
She says that he screamed, "You f—ed up, you can't do anything, you can't love anybody, you're f—ing useless, you cripple" in the court documents. She claims that she responded, "I don't f—ing deserve this. I can do so much better than you."
She claims that while she was lying on the sofa, he lunged at her "and strangled her, throttling her and shaking her head and shoulders aggressively."
Blair claims in the docs that she tried to fend off his attack by sticking her fingers into his eyes and mouth. She claims she was knocked out during the assault. Blair claims that when the police came to her house, her nose began to bleed and she lost consciousness once more.
During the encounter, Blair alleges that he said things like, "F— you, you f—ing loser, I'll get you, you are so done" and "I will f—ing ill you" multiple times. Photographs noted in the LAPD Investigative Report list "One photo from her full face, three photos from the red marks around her neck and under her chin, and three photos from the red marks on her left and right hand."
She also stated that she believes Carlson is in possession of an unlicensed loaded firearm, which he claimed he had previously demonstrated to her. Carlson claimed Blair's bloody nose was the consequence of a lengthy issue, and he attached a text message exchange from two days before the incident.