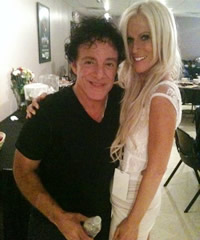 We were wondering as if Michaele Salahi has been kidnapped but the truth was so bizarre. She is not kidnapped but is with Neal Schon of band Journey.
Michaele Salahi has joined Neal Schon and is with him in Tennessee attending Journey concerts from one place to another. Michaele's husband Tareq has been considering Neal and his band members as friends and was bewildered either his wife ran away with Neal Schon.
He had been crying for his wife Michaele Salahi feeling his life was over as he only lives for Michaele and never thinks about anyone else but she is having an affair with Neal Schon.
Neal Schon band recently came to Virginia and stayed with Tareq and Michaele. Tareq and Michaele also attended Journey show and had a backstage hang out with Neal Schon but it is quite absurd why Michaele Salahi ditched Tareq over Neal Schon!! Also read here Celebries news.